SUN IN 5th HOUSE / Benefits of Sun in 5th House of horoscope
SUN IN 5th HOUSE OF HOROSCOPE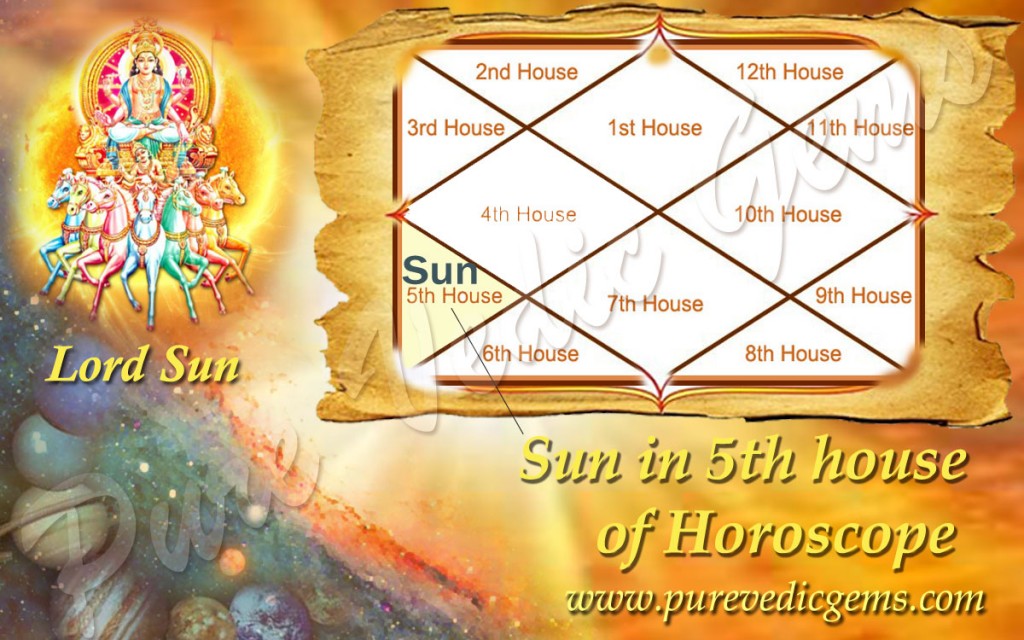 SUN IN 5th HOUSE / Benefits of Sun in 5th House of Horoscope / Characteristics of of Sun in 5th House of Horoscope –
a) Unless the stars of the spouse are more powerful, or sun is accompanied by Mars or any soft planet, the progeny remains limited to 3 or at the most 4 pregnancies, and if stars of spouse are helpful, the first one will be a male child.
b) Outstanding capacity for management and administration, sometimes bordering on harshness or ruthlessness.
c) Educational progress would often be above the average, but rarely at the top of the class or very high level results.
d) Good grasp, but outside help needed for developing equally good memory. In some cases, given to copying homework and difficult exercises from fellow students and depending on private tuition. If Saturn or Rahu or Ketu is also in the 5th house, the individual would be given to copying in the Exam hall too.
e) Given to dropping of names and exercising influence over the teachers in school as well as in college life, though normally respectful towards teachers and elders.
f) Given to more than average annoyance, irritation and anger, more so from the age of 24 years onwards.
h) Normally charitable by nature, specially in giving monetary help or manpower support to any political party, politician, political or social cause.
g) Less chances of indulging in bad character or any kind of criminal activity as such, though if associated with Saturn or Rahu by conjunction within 10 degrees or aspected by Mars or Saturn fully from the 11th house, the individual might provide protection, shelter to hard-core political leaders, and to such social reformers as believe in hard-line approach.
i) Bold and courageous relating to matters mentioned in (g) and (h) above.
j) Desirous of political rise of self or spouse and if unsuccessful in gaining grounds directly in political arena, the individual become helpful to or follower or patron of high-level politicians and bureaucrats, resulting in importance to self.
Remedies:-
Person, who have SUN Planet in 5th House with good aspect and placement or lord of fifth house then he or she can wear Ruby Gemstone (Manik). This will boost up their intellectual ability, education and improvement in immunity. If Sun placed with negative aspects then he or she must do Surya Shanti Yagya.
Note : Always wear Astrological Gemstones only after consulting your Horoscope with a Learned Vedic Astrologer –  www.purevedicgems.com/best-astrologer 
Astro-gemstones
,
Astro-remedies
,
Astrological consultation
,
astrological remedies
,
benefits of planet sun in 5th house of horoscope
,
destiny healing
,
destiny improvement
,
horoscope
,
jyotish gemstones
,
kundli
,
mantras
,
planet sun
,
planets
,
sun in 5th house
,
vedic astrology
,
vedic-remedies