The Ancient (Tantric) NavRatna Talisman Design
The Ancient (Tantric) NavRatna Talisman Design
There is a specific (tantric)  way of using gems-making a ring  in which all the nine gems are set in a particular order, as follows :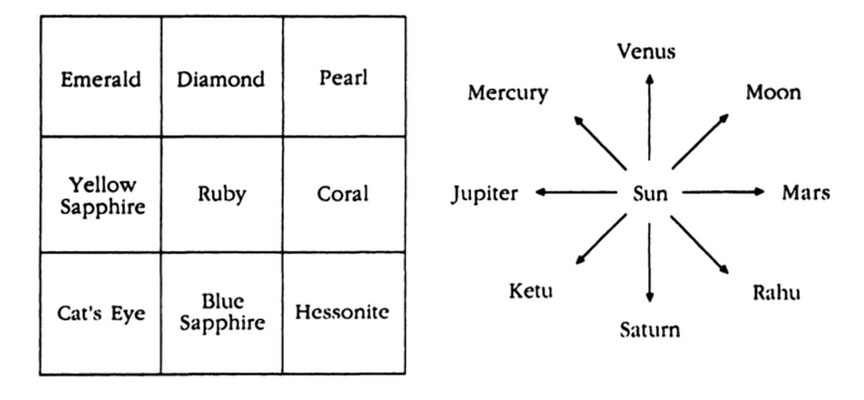 A pendent made with these nine gems (NavRatnas) worn in the neck is also useful. The size of the gems in a ring has to be small, but in a pendent they can be set in any size, and very beautiful and unique shapes can be created. A double row of these gems also can be used to make the pendent more effective.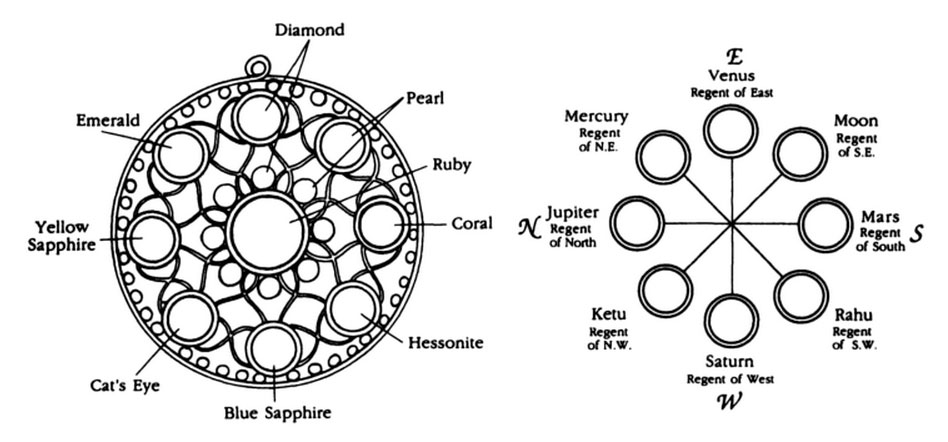 This type of setting of the navratnas is basically tantric in origin, and the same diagram is made in tantric  puja/ worship. The diagram is made with wheat flour and beans. And the colors of the planets are used to fill the squares. The diagram is commonly used in all auspicious ceremonies for Navgrah Poojan (invocation of the nine planets).
There is one important thing about the nine-gems used in the pendent or ring. All gems used for setting should be flawless and of a very good quality and clarity to obtain maximum benefit from it. If all the gems are not of very good quality, the ruby at least should be very fine quality, large, lustrous, and flawless. If a ring of the nine gems is made, the corners of the ring should be rounded, purely square shaped ring should not be made. To know more……www.purevedicgems.com/nine-vedic-gems.html
Vedic Remedies & 9 planets:-
Tags: Astro-gemstones, Astro-rashi gemstones, Astrological consultation, astrological remedies, best gems seller, best online gems, chakras, destiny healing, destiny improvement, energized gemstones, gemstone, gemstones, genuine astro gems, horoscope, Nav-Ratnas, Nav-Ratnas Talisman designs, navgrah, planets, pure gemstones, rashi gemstones, vedic astrology