SUN IN THE 4th HOUSE / Sun in the Fourth House Of Horoscope
SUN IN THE 4th HOUSE OF HOROSCOPE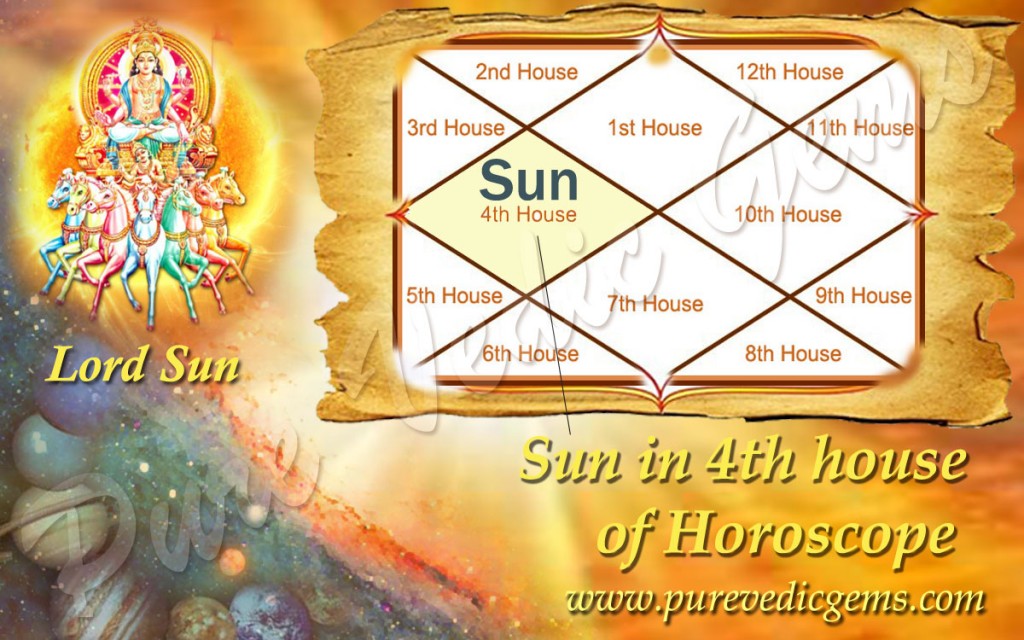 Sun in the 4th House of Horoscope / Benefits of Sun in Fourth House of Horoscope / Characteristics of Sun in the 4th House of Horoscope –
Normally astrological experts are full of praise for Sun in 4th house, because it has direct drishti on the 10th house while practical experience of others fails to confirm this viewpoint fully or unconditionally. There is no doubt that Sun in 4th house helps those individuals who are in government, semi-government or local government or municipal or public sector service or in active politics.
However, Sun in 4th house, specially if in Aries, Leo, Lib, or Aquarius creates hurdles in getting full care and affection of the natural mother in childhood, i.e. upto the age of 12 years Even in later life, hidden differences or a typical type of dislike or distrust develops between mother and son, whether natural mother, stepmother or adopting-mother.
The individual is often arrogant whenever he/ she commits any traffic offence or violation of routine system of law and order. These individuals take pride in dropping names, whether they actually know those important persons or not, or have contacts or not with the name-dropped.
If these individuals hold any administrative or management charge in any big establishment, organisation, office or industry, they boast of their impartiality, which they hardly exercise. If Virgo or Capricorn is in the 4th house, sometimes their integrity also faces a question mark and undergoes an enquiry or even a regular investigation. Some of these individuals, depending on the position of Mars in 6th, 9th, or 10th house or that of Jupiter in 2nd, 5th, 7th or 10th house, get respect and recognition from Rulers, Presidents, Prime Ministers, government or Very Important Political and Social Formations or individual leaders.
These individuals often help in works of public utility, such as widow homes, night shelters for poor, tanks and ponds: irrigation projects, small dams for collecting rain-waters, small schools, dispensaries, and old-age-homes, etc. But their actual monetary contribution is not so large as they brag about their all kind of service to the cause undertaken.
Because these individuals are given to flattery, they indulge towards their employers, superiors and Godfathers, and unfortunately expect the same from their subordinates and juniors. when they do not get it to their estimation, they put hurdles in the progress of those non-flattering employees, subordinates and juniors.
These individuals often tell their grown up children as to how much trouble and sacrifice were involved in the children's upbringing, more with a view to high expectations from the children than to acquaint the children with the past years of their childhood.
These individuals have bright chances of inheriting residence from the parents or from maternal side, and if Cancer or Leo is in the 4th house, they either get adopted by someone on the mother's side or get a gift of money and immovably asset from that source.
These individuals are quite sincere and helpful to their friends. They rarely suffer want of domestic help. If these individuals ever go out of their way to help the domestic servant or any  other employee, they do not miss the chances of putting a burden of obligation on that do.
Remedies –
Person, who have SUN Planet in Fourth House with good aspect and placement or lord of Fourth house then he or she can wear Ruby Gemstone (Manik). This will boost up their administration ability, house, mother and Vehicle related aspects. If Sun placed with negative aspects then he or she must do Surya Shanti Yagya.
Note : Always wear Astrological Gemstones only after consulting your Horoscope with a Learned Vedic Astrologer –  www.purevedicgems.com/best-astrologer
Tags:
Astro-remedies
,
astrologer
,
benefits of ruby gemstone
,
benefits of sun in 4th house of horoscope
,
best astrologer
,
gemstones
,
horoscope
,
jyotish gemstones
,
lord surya
,
manik
,
manik stones
,
navratnas
,
online gemstones seller
,
planet sun
,
planets
,
rashi gemstones
,
ratnas
,
ruby gemstones
,
sun in 4th house
,
vedic astrology
,
vedic-remedies