Sixth Manifestation of Goddess Durga-(Maa Katyayani)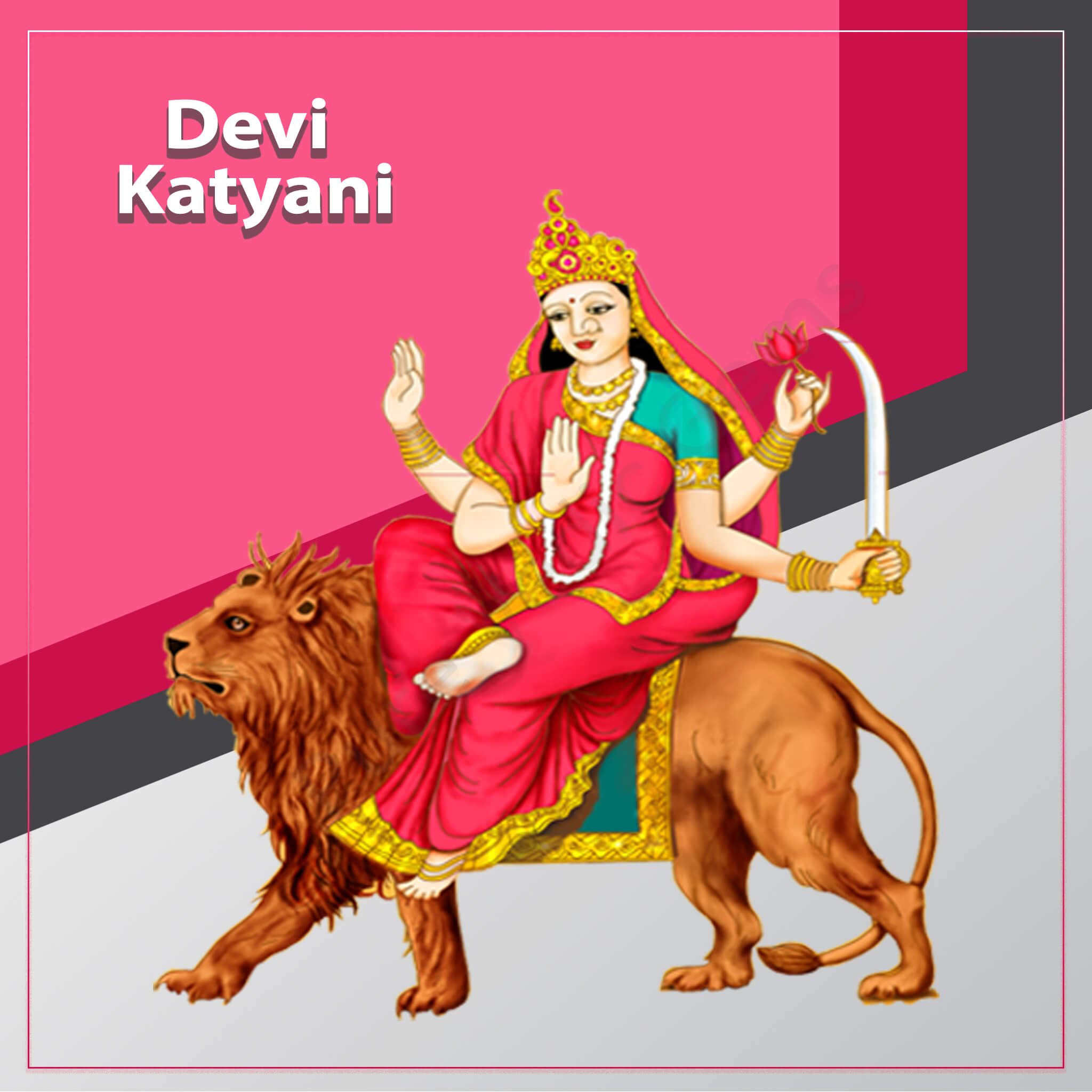 Worship Maa Katyayani on the 6th day of Navaratri
Maa Katyayani is the sixth form of Maa Durga. So the sixth day of Navratri is dedicated to Mata Katyayani. She is called Katyayani because she was born as the daughter of Sage Katya of Katya clan. Sage Katyayan performed very hard penance of Maa Bhagvati. It was his wish that Maa Durga born as his daughter. The Goddess accepted his request. In two of her hands she holds a weapon and a lotus and with the other two she blesses and protects. Kaatyayani devi is very protective and grants boons and fulfils wishes—especially relating to obtaining the association of the Supreme Divine—Sri Krishna. A yellow light of satisfaction emnates from her eyes and spreading into the eyes of people and allowing one to be satisfied with what is being seen and received in life. She radiates crescent-shaped yellow energies, which descend at our finger tips, empowering us to do good and appropriate action. Offer six guavas in the morning and accept in the evening as prasadam and share with others.
When the army of the powerful demon Mahishasura, who could only be killed by a warrior Goddess, had reached heaven to overthrow the Gods from their abode. The trinity of Gods- Brahma, Vishnu and Shiva, got infuriated and they created the Most powerful Goddess Durga, whose
hands respectively display defending and granting gestures. Her skin appears golden in color. Her mount is a lion. Maa Katyayani is the form of this Most powerful Durga Swaroop.There is a very famous temple in Delhi (Chhattarpur) of Maa. This shrine is dedicated to Goddess Katyayani, whose "darshan" can be availed only on "Ashtami" falling in every month. Otherwise, the "darshan" of Goddess Katyayani can be made throughout the days of 'Navratri. The golden image of Katyayani attracts the attention of devotees with its huge size and sheer divinity. The worship of Maa Durga as Goddess Katyayani on 6th day of Navratri has its very importance. Yogis & Sadhaks penance on Ajna Chakra on this day.
The gemstone related to this chakra is Emerald (Panna).
click here to view our product
Which is also the gemstone for planet Mercury (Budh). People facing problems in their lives due to bad placement of planet Mercury in the horoscope should keep fast on this day and pray to Maa Katyayani to protect themselves from the ill effects of this planet but if they have this planet well placed in their horoscope then they should wear Fine Quality Jyotish Approved Emerald to increase the positive the blessing of this planet in their lives.
Chant this mantra to worship Goddess Katyayani…
6th Day of Navratri : 12th October, 2021 (Tuesday)
Tithi – Shashthi Ritual – Sindoor
Tritiya Goddess Worshipped – Katyayani
Offerings to the Goddess – Honey
Color to be Worn on the Day – Green
Gems – Emerald (Panna) Maa Katyayini Maha Puja
ध्यान :-
वन्दे वांछित मनोरथार्थचन्द्रार्घकृतशेखराम्।
सिंहारूढचतुर्भुजाकात्यायनी यशस्वनीम्॥
स्वर्णवर्णाआज्ञाचक्रस्थितांषष्ठम्दुर्गा त्रिनेत्राम।
वराभीतंकरांषगपदधरांकात्यायनसुतांभजामि॥
पटाम्बरपरिधानांस्मेरमुखींनानालंकारभूषिताम्।
मंजीर हार केयुरकिंकिणिरत्नकुण्डलमण्डिताम्।।
प्रसन्नवंदनापज्जवाधरांकातंकपोलातुगकुचाम्।
कमनीयांलावण्यांत्रिवलीविभूषितनिम्न नाभिम्॥
स्तोत्र :-
कंचनाभां कराभयंदमधरामुकुटोज्व्लां !
स्मेरमुखीशिवपत्नीकात्यायनसुतेनमोअस्तुते !!
पटाम्बरपरिधानांनानालंकारभूषितां !
सिंहास्थितांपदहस्तांकात्यायनसुतेनमोअस्तुते !!
परमदंदमयीदेवि परब्रह्रा परमात्मा !
परमशक्ति, परमभ्क्तिकात्यायनसुतेनमोअस्तुते !!
विश्र्वाचितां, विश्र्वभर्ती, विश्र्वहर्ती, विश्र्वप्रीता !
विश्र्वाचितां, विश्र्वातीताकत्यायनसुतेनमोअस्तुते !!
कां बीजा, कां जपानंदकां बीज जप तोषिते !
कां कां बीज जपदासताकां कां सन्तुता !!
कांकारहाषणीकां धनदाधनमासना !
कां बीज जपकारिणीकां बीज तप मानसा !!
कां कारिणी कां मूत्रपूजिताकां बीज धारिणी !
कां कीं कूंकै क:ठ:छ:स्वाहारूपणी !!
कवच :-
कात्यायनौमुख पातुकां कां स्वाहास्वरूपणी !
ललाटेविजया पातुपातुमालिनी नित्य संदरी !!
कल्याणी ह्र्दयंपातुजया भगमालिनी !!
Please Visit Our Website : https://www.purevedicgems.com/