Benefits of Jupiter in 2nd House of Horoscope
Benefits of Jupiter in 2nd House of Horoscope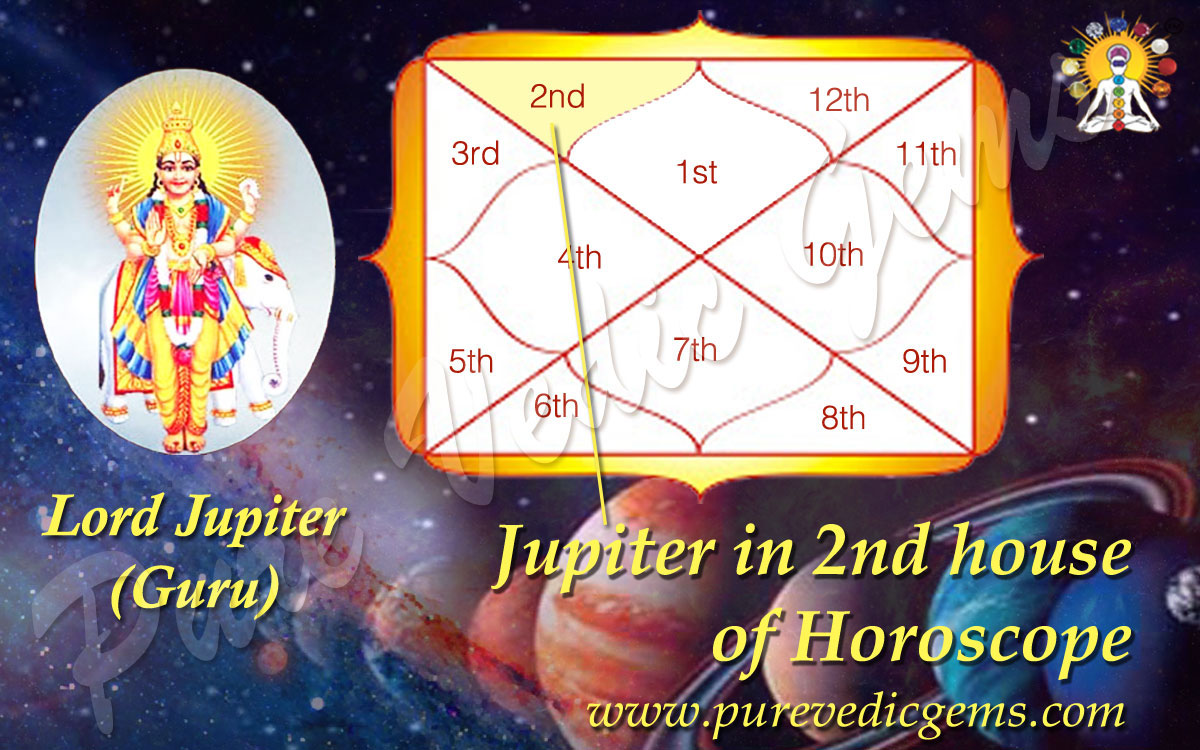 Jupiter in 2nd House / Benefits of Jupiter in 2nd House of Horoscope /Characteristics of Jupiter in 2nd House of Horoscope
BENEFITS OF JUPITER/BRIHASPATI/GURU IN THE 2ND HOUSE OF THE HOROSCOPE
Jupiter is the master of wealth, ornaments, jewellery, cash, valuables and also of movable assets, and the 2nd house concerns wealth, savings, ploughing-back of profits.
The 2nd house of the horoscope also concerns ornaments, jewellery, movable assets; thus it is clear that Jupiter in the 2nd house is one of the best benefit-giving star with regard to all these matters. This is the best position for Jupiter. Money-lending, business in gold ornaments, jewellery, precious stones, Costly paintings, valuable statues of gold and silver, and ancient items of these categories may constitute the main source of livelihood.
In case of professions concerning law, accounts, economic advice or teaching any of these subjects, service concerning judiciary or economics or accountancy, adjudication, arbitration, survey or valuation of movable and immovable assets including property or practice as chartered-accountant or costs & works accountant constitute the source of livelihood of the individual, great success is promised by Jupiter in the 2nd house.
Similarly, employment with income-tax, sales-tax, central excise state excise, bank, currency control including trading or supervising trade in foreign exchange, service in a currency printing press and circulation of currency and coins, control over banking system, life insurance and general insurance, financing or import/export of films would give outstanding success to the individual.
If the individual is in the trade of items of fine arts, or in the trade of buying and selling books on law, business, accountants and economics, success is assured there too. To an extent, envoys, ambassadors and consular services are also within the domain of Jupiter, and thus affected by its position in the 2nd house.
Whatever the Rasi in the 2nd house, Jupiter in 2nd house generally gives beneficial results, more so during its mahadasa or antardasa under Sun, Moon, Mercury and Venus. Fairness or unfairness in dealings and transactions or trading depends on the Rasi in the 2nd house. In case it is a Rasi owned by Jupiter itself or owned by Sun, Moon, Mercury or Venus, the individual itself maintains fairness in accumulation of wealth and assets. In case Mars or Saturn owns the Rasi, the method and means can have a touch of unfairness. Sudden windfall by lottery, betting at horse races, speculation in shares or gambling have direct concern with Jupiter in the 2nd house. This type of income is considered by some people as fair, while some criticize such income as unfair, because one gets this money by making be it by one rupees for thousands of rupees. Ethics is not the concern were and so this ethical fineness , of distinction or differentiation between fair and unfair be left out.
Remedies –
People who have JUPITER (BRIHASPATI)/GURU Planet placed in Second House with good aspect and placement or having planet Jupiter as lord of 2nd house then he or she should wear a fine quality, Natural and Astrologically Approved (Jyotish Standard) Yellow Sapphire (Pukhraj) Gemstone.  And if Jupiter/Brihaspati is placed with negative aspects or conjunctions then he or she must do  Guru shanti Yagya to pacify the negative effects of planet Jupiter/Brihaspati in their lives..

Note : Always wear Astrological Gemstones only after consulting your Horoscope with a Learned Vedic Astrologer – www.purevedicgems.com/best-astrologer/