Importance of Akshaya Tritya Puja
-: Importance of Akshaya Tritya Puja :-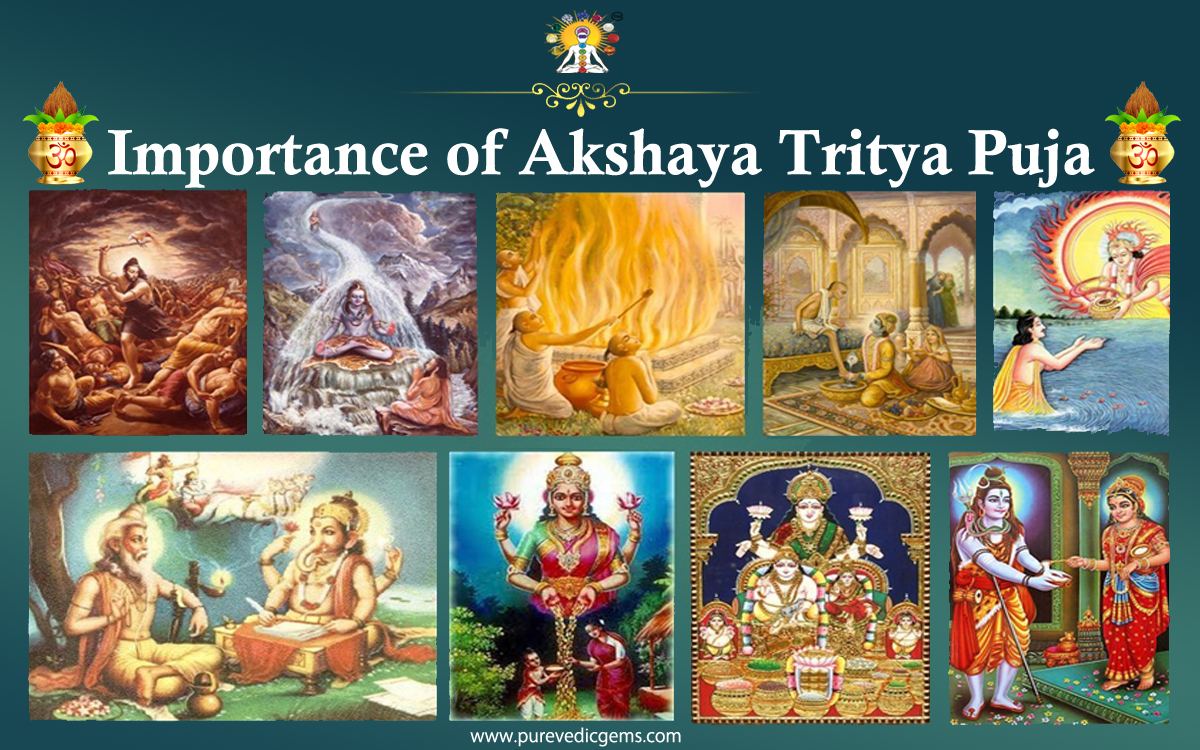 -:Importance of Akshaya Tritya Puja :-
Akshaya Tritya is a very important day in the year as it is dedicated to Lord Vishnu and goddess Laxmi. It is a very prominent belief among Hindus that Lord Vishnu fulfils the desires of all his devotees and Goddess Laxmi bestows her devotees with wealth and prosperity. Thus Akshaya Tritiya is considered to be very auspicious bringing victory and good fortune. This is the chief reason why most people prefer to purchase valuable items like gold on this day. It has been a prominent belief that the wealth bought on this day never diminishes. These days, new ventures like investing in fixed deposits, share markets, purchasing of property etc. are also practised by people as they are considered to very profitable due to the fact that they grow during the period of entire year.
How to do Akshaya Tritya Puja:
The puja for Akshaya Tritya is started by cleaning the house and body properly. Prayers are being offered to Lord Vishnu and Goddess Laxmi using Tulsi leaves, flowers and with the nine times jaap of mantra: "Om Namo Vishnudevaya Namah" , "Om shree shree laxmi deviye Namah". After this the prayer of Goddess Laxmi is being read. As Prasad, fruits or sweets are being offered to god and then shared with relatives and friends. After the prayer "Annadhanam" which is offering food to the poor is being done as it is being considered to be the purest thing being done. Donations are also considered to be the best thing for this day.
Akshaya Tritya Puja Vidhi:
*Get up early in the morning.
*Many devotees keep fast.
*Offer Sandalwood paste and flowers to Lord Vishnu.
*Place Sesame seeds, Rice, Chana Dal and sweets along with Tulsi as Prasad.
*Recite 'Vishnu Sahasranama' and mantra.
*Donate to needy and brahmins.
*Worship Maa Parvati and offer Wheat, Chana daal, Milk, gold, cloth and Kalash (filled with water)
*Feed the poor and offer grass to cow and calf.
Benefits of Akshaya Tritya Puja:
Some of the benefits associated with Akshaya Tritya pujas are as follows:
Home is filled with prosperity.
All the lost money is retrieved back.
Any new business started, gets the boom in respective years.
Power of intuition to create more wealth.
Aspects of the ever growing wealth are being retrieved.
Akshaya Tritya Puja Mantra:
There are many mantras associated with specific activities for this day. These are as follows:
While donating: "Sri parameshwara preethyartha muda kumbhadaanoktha phala vaapyartham brahmana yodakumbha daanam karishye thadanga kalasha pujyadhikam cha karishye".
While worshiping Brahimin: "Esha dharmaghato data brahma Vishnu shivathmakah
Asya pradhanatsa kalamama santhu manorathah"
For Parshurama Puja: "Jamadagnya mahaveera kshatriyaantha kara prabho
guruhanarghyam mayadattam krupayaa parameshwaraa".
Note : Always wear Astrological Gemstones only after consulting your Horoscope with a Learned Vedic Astrologer – www.purevedicgems.com/best-astrologer
Please Visit Here :- https://www.purevedicgems.com/ http://purevedicgems.in/