13 Mukhi Rudraksha / Thirteen Mukhi Rudraksha
Thirteen Mukhi Rudraksha (Blessed by Lord Indra) – 13 Mukhi Rudraksha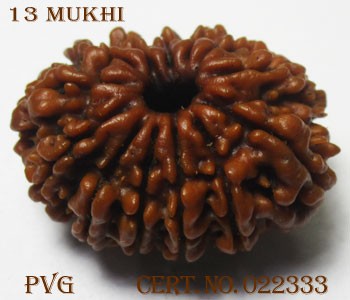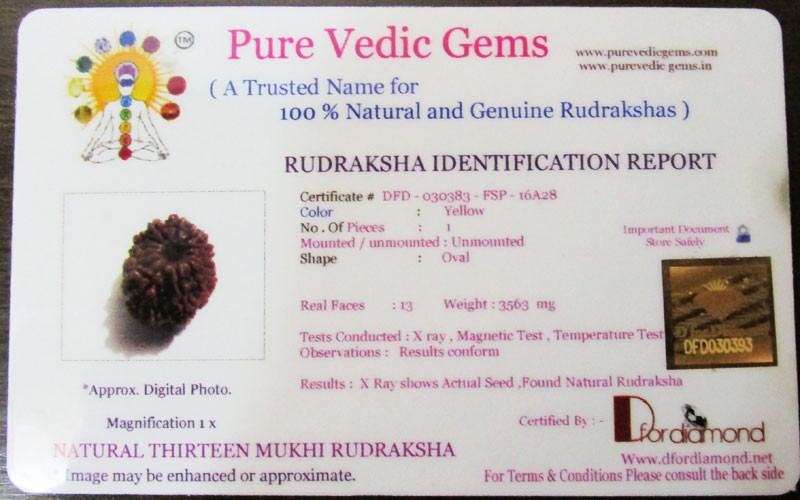 The wearer of this Rudraksha is blessed by lord Indra and Kamdeva. This Rudraksha fulfils all the earthly desires and gives eight accomplishments or Siddhies. The God cupid Kamdeva is pleased with the wearer and fulfills all the worldly desires. It improves oratory powers, charm and convincing powers. It also helps in improving sexual performance.
Diseases it cures –
It cures problems of throat, neck, kidney, sex organs, thyroid, sexuality, dropsy, urinary and eye diseases, conceiving problem, indigestion, arthritis, all obstruction in veins/nerves and psychiatric disorders.
Mantras to be recited for Thirteen Mukhi Rudraksha / 13 Mukhi Rudraksha –
Om Hreem Namah Namah (Shiva Puran)
Om Kshaam Chaum Namah  (Mantra Maharnava)
Om Kshaum (Padma Puran)
Om Kshayem Staum Namah (Skand Puran)
Om Eem Yaam Aap Aum
Mahamrityunjaya Mantra
Om Namah Shivaya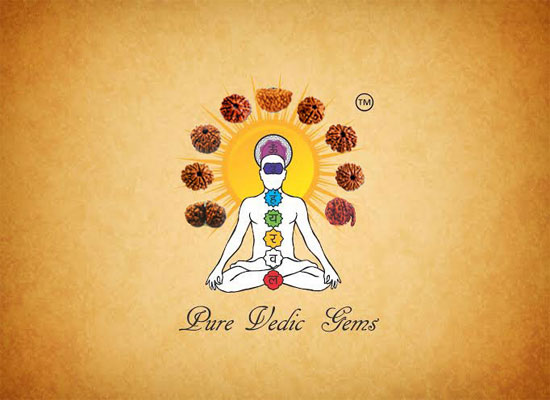 At Pure Vedic Gems all our Rudrakshas come from the oldest and the most reliable Rudraksha sources and go through stringent tests from reputed Labs of International standards for all the above mentioned parameters. After being certified, each and every Rudraksha is purified and energized by the Ancient Rituals (Rudra Mantras) in our monthly Rudrabhishek pujas. This assures our Rudrakshas to be of the best quality, Absolutely genuine and most effective to achieve their desired benefits, (and due to our direct sourcing) at the most reasonable and affordable prices.
To view our Rudrakshas…..… www.purevedicgems.com/Rudrakshas
13 mukhi rudraksha
,
buy rudraksha
,
certified rudrakshas
,
rudraksha
,
rudrakshas
,
thirteen mukhi rudraksha