Tips Related to the Physical World
Tips Related to the Physical World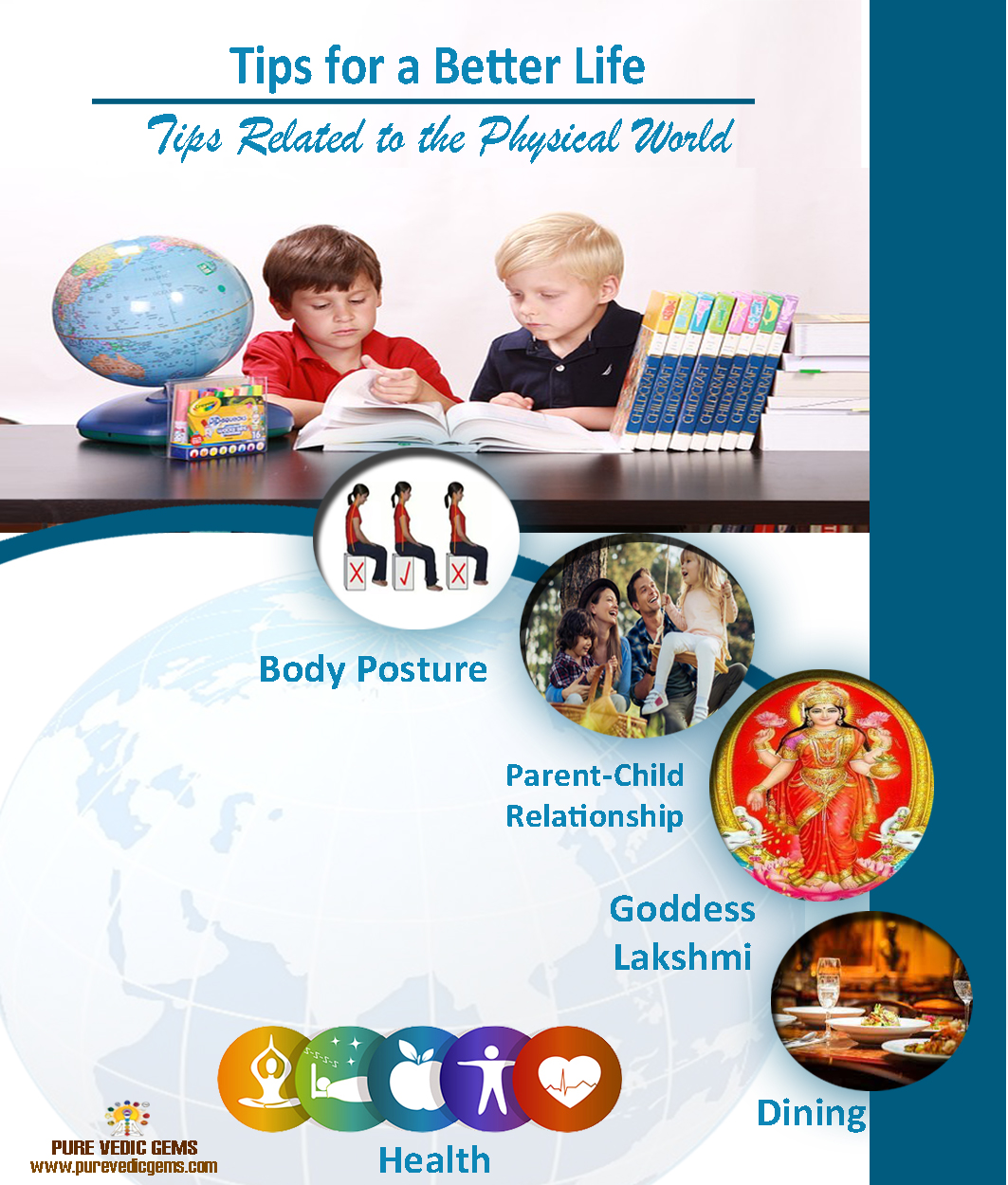 Tips Related to the Physical World
Body Postures
Some people have a tendency to sit cross-legged or cross their arms across their chest. Both these positions are unreceptive in nature and not welcoming. People using these postures frequently are usually stubborn and poor recipients of the good things in life. Adopting an open posture with legs and arms is preferable and beneficial. A straight posture helps in the free flow of energy from the base of the spine to the rest of the body.
Health
If you are not healthy, you cannot work hard and flourish. Do not position a bathroom in the North-east of your home — it leads to chronic diseases. If a couple uses a bedroom in the North-east, they may have problems in pregnancy, leading to abnormal children. Never place your head towards the North when sleeping — the North Poles magnetic energy will disturb your sleep. Toilets, underground water tanks and swimming pools in the South-west also jeopardize health. A bedroom in the South-east may lead to high blood pressure and irritability. The East side of your plot, where the sun rises, is sensitive. Never block it, or you may experience eye-related problems, strokes, Paralysis and severe headaches or migraines.
Fire
Fire is one of the five sacred elements and should never be touched by one's feet. This includes items such as matchsticks and cigarettes, which are connected to Fire and hence should not be snuffed out with one's feet. Neither should you use your feet to push open doors. Rubbing your feet against each other also brings bad luck and try not to sleep with your legs crossed. Goddess Lakshmi blesses people who keep their feet clean and odour free.
Good Life Partner
The right partner makes your life journey simpler by cushioning you from all the jolts that life ensures we experience. To find the right partner, apply the law of equality. Wherever there is darkness, balance it out with light, wherever there is dullness, provide sharpness. Strike balance between male and female energies, between receiving and giving. Combine colours and sounds well.
Restless Movements
Unnecessary and fidgety movements of hands and feet are considered inauspicious. For instance, tapping or drumming on tables or on parts of your body in idle fun or as a pastime should be avoided.
Daily Bath
One should bathe daily. This keeps negative energies at bay. Bathing with sea salt also gives a tremendous boost to the flow of positive energies.
Studying
While studying, make sure that there is a solid wall behind you. The presence of a window or any opening facing your back does not provide any energy support and results in lack of concentration. Also, make sure that your study area is free of clutter such as old mails, notes, non-working pens, junk stationery items, etc.
Dining
During earlier times, people used to have their meals in the kitchen. This activity was and is still considered very auspicious for the residents of a house One should face the North while eating meals. It is also beneficial to offer the first portion of the food to the stove (the Fire) itself, another portion to a cow and subsequently to a dog. You can even donate food to organizations that take care of street cows and stray dogs. These offerings are very helpful in clearing the effects of any previously earned bad karma.
Parent-Child relationship
Ego strings attached to this relation can create bad vibes. If the North side of your building is higher than the South, it may be an uncomfortable relationship. If the son occupies the plot's South-west, he will try and dominate the relationship, perhaps even clash with the father.
Security from Enemies
This indicates a secure life where you have no enemies in your life. Scan the South-east of your structure for main entrances and water sources.
For 100% Natural, Astro-Rashi Approved, Lab Certified Gemstones/Rudrakshas:
Visit: Purevedicgems.in