Stotras and Sahasarnam -The Saturn
Stotras and Sahasarnam
II The Saturn II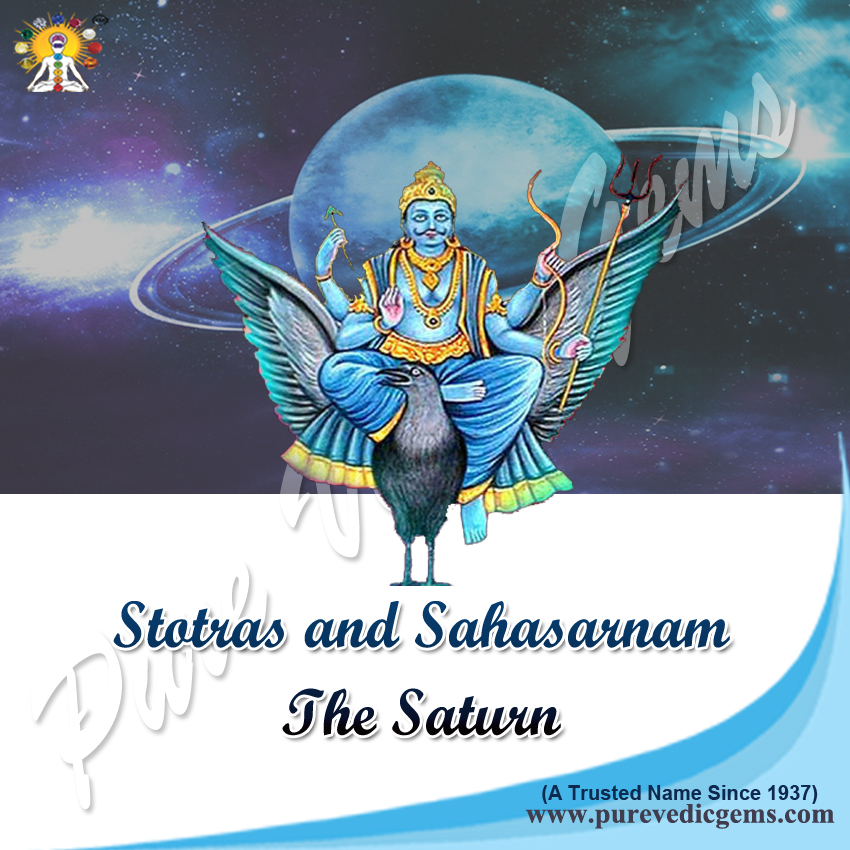 II The Saturn II
The Saturn Mantra
Saturn, Sani also known as Manda means slow. It also means to be full of forgiveness, tolerance and peace as in "Shankara", "shanno danti prachodayat". Saturn indicates the solitaire life and spirituality. He signifies cold diseases, hard work, public office, political success and chronicity of any disease. Saturn is a karaka of anything slow – be it a disease, a long stay in office. A well posited Sani gives excellent longevity. Similarly, Sani would cause delay in the aspects of life he is associated. Sani is in-charge for bones and quality of blood. Adverse Sani would cause fractures, dental problems and anaemia. Remedial measures to Sani will mainly reduce the adverse effects of Sani caused by his position, ownership and association in the chart.
Saturn signifies labour class in the natal chart. It is neutral planet and lord of Capricorn and Aquarius. It is said that Saturn is Son of Sun God. It is a cold, dry contracting, short tempered planet. Being a old aged planet, it is very much lazy in nature. As it is a labourer class planet, it signifies works which needs hard work. Persons such as engineers, real estate agents, research work, scientists, persons dealing with providing labours for different works are significator of Saturn.
It causes constant and painful diseases, all sorts of chronic and degenerative diseases, leg fracture, cancer, diseases of glands, skin diseases, paralysis etc. It represents nerve tissues, muscles, tendons, and gall bladder bones.
Saturday is considered best for worshipping Saturn. If Pushya Nakshatra is also on Saturday then it is the best day to start worship. The Mantra is used to propitiate an afflicted Saturn and achieve Rajayoga through complete blessings of Saturn. In whatever house Saturn is posited, it makes it stronger whereas Jupiter destroys the house in which it is posited. But whatever house Jupiter aspects or overlooks, it makes it stronger whereas Saturn destroys the house it aspects. This is the rule mentioned in Bhrigu Samhita. Apart from this, if Saturn is in the house of Sun that is Aries or one house before or after the Moon, it is bad. And as for any other planet, it is also bad if posited in the sixth, eighth and twelfth houses. So, in case of Saturn's malefic position, this mantra is used. Saturn Mantra is useful, when one feels depressed. Saturn indicates success in worldly affairs, success in business and the man touches dizzy heights.
On a Saturday, on which sarwarth siddhi yoga is there and Moon is favourable to the devotee, recital of Saturn mantra is to be started. The mantra is to be recited twenty three thousand times. 1/10 of homa with the twigs of shami and 1/10 is done as tarpan and 1/10 of that should be done as marzan. Shani should be worshipped with the iron made idol. After that the devotee should donate the articles of Saturn. After recital of the Mantra the devotee should fed brahmins as per his capabilities. The food of Brahmins should include articles made of black sesame or powder of black sesame should be used as one of the ingredients of the food.
When Saturn is malefic in a horoscope, in transit or causes the 7 and a half years cycle, recital of Shani mantra is very beneficial along with mrityunjayee. It is also recommended that the native should observe fast on Saturday and worship Lord Saturn with its kavach, stotra and mantra. Worshipping lord Hanuman is advised during the sadhesati of Saturn.
II शनि कवचं II 
अथ श्री शनिकवचम्
अस्य श्री शनैश्चरकवचस्तोत्रमंत्रस्य कश्यप ऋषिः II
अनुष्टुप् छन्दः II शनैश्चरो देवता II शीं शक्तिः II
शूं कीलकम् II शनैश्चरप्रीत्यर्थं जपे विनियोगः II
निलांबरो नीलवपुः किरीटी गृध्रस्थितस्त्रासकरो धनुष्मान् II
चतुर्भुजः सूर्यसुतः प्रसन्नः सदा मम स्याद्वरदः प्रशान्तः II १ II
II ब्रह्मोवाच II 
 श्रुणूध्वमृषयः सर्वे शनिपीडाहरं महत् I
कवचं शनिराजस्य सौरेरिदमनुत्तमम् II २ II
कवचं देवतावासं वज्रपंजरसंज्ञकम् I
शनैश्चरप्रीतिकरं सर्वसौभाग्यदायकम् II ३ II
ॐ श्रीशनैश्चरः पातु भालं मे सूर्यनंदनः I
नेत्रे छायात्मजः पातु पातु कर्णौ यमानुजः II ४ II
नासां वैवस्वतः पातु मुखं मे भास्करः सदा I
स्निग्धकंठःश्च मे कंठं भुजौ पातु महाभुजः II ५ II
स्कंधौ पातु शनिश्चैव करौ पातु शुभप्रदः I
वक्षः पातु यमभ्राता कुक्षिं पात्वसितत्सथा II ६ II
नाभिं ग्रहपतिः पातु मंदः पातु कटिं तथा I
ऊरू ममांतकः पातु यमो जानुयुगं तथा II ७ II
पादौ मंदगतिः पातु सर्वांगं पातु पिप्पलः I
अङ्गोपाङ्गानि सर्वाणि रक्षेन्मे सूर्यनंदनः II ८ II
इत्येतत्कवचं दिव्यं पठेत्सूर्यसुतस्य यः I
न तस्य जायते पीडा प्रीतो भवति सूर्यजः II ९ II
व्ययजन्मद्वितीयस्थो मृत्युस्थानगतोSपि वा I
कलत्रस्थो गतो वापि सुप्रीतस्तु सदा शनिः II १० II
अष्टमस्थे सूर्यसुते व्यये जन्मद्वितीयगे I
कवचं पठतो नित्यं न पीडा जायते क्वचित् II ११ II
इत्येतत्कवचं दिव्यं सौरेर्यनिर्मितं पुरा I
द्वादशाष्टमजन्मस्थदोषान्नाशायते सदा I
जन्मलग्नास्थितान्दोषान्सर्वान्नाशयते प्रभुः II १२ II
 II इति श्रीब्रह्मांडपुराणे ब्रह्म-नारदसंवादे शनैश्चरकवचं संपूर्णं II
Ashtottara Shatanamavali of Lord Shani Dev
1.
शनैश्चर

Sanaischara

ॐ श्री शनैश्चराय नमः।

Om Shri Shanaishcharaya Namah।

2.
शान्त

Shanta

ॐ शान्ताय नमः।

Om Shantaya Namah।

3.
सर्वाभीष्टप्रदायिन्

Sarvabhishta-pradayin

ॐ सर्वाभीष्टप्रदायिने नमः।

Om Sarvabhishtapradayine Namah।

4.
शरण्य

Sharanya

ॐ शरण्याय नमः।

Om Sharanyaya Namah।

5.
वरेण्य

Varenya

ॐ वरेण्याय नमः।

Om Varenyaya Namah।

6.
सर्वेश

Sarvesha

ॐ सर्वेशाय नमः।

Om Sarveshaya Namah।

7.
सौम्य

Saumya

ॐ सौम्याय नमः।

Om Saumyaya Namah।

8.
सुरवन्द्य

Suravandhaya

ॐ सुरवन्द्याय नमः।

Om Suravandyaya Namah।

9.
सुरलोकविहारिण्

Suralokaviharin

ॐ सुरलोकविहारिणे नमः।

Om Suralokaviharine Namah।

10.
सुखासनोपविष्ट

Sukhasanopavishta

ॐ सुखासनोपविष्टाय नमः।

Om Sukhasanopavishtaya Namah।

11.
सुन्दर

Sundara

ॐ सुन्दराय नमः।

Om Sundaraya Namah।

12.
घन

Ghana

ॐ घनाय नमः।

Om Ghanaya Namah।

13.
घनरूप

Ghanarupa

ॐ घनरूपाय नमः।

Om Ghanarupaya Namah।

14.
घनाभरणधारिण्

Ghanabharanadharin

ॐ घनाभरणधारिणे नमः।

Om Ghanabharanadharine Namah।

15.
घनसारविलेप

Ghanasaravilepa

ॐ घनसारविलेपाय नमः।

Om Ghanasaravilepaya Namah।

16.
खद्योत

Khadyota

ॐ खद्योताय नमः।

Om Khadyotaya Namah।

17.
मन्द

Manda

ॐ मन्दाय नमः।

Om Mandaya Namah।

18.
मन्दचेष्ट

Mandacheshta

ॐ मन्दचेष्टाय नमः।

Om Mandacheshtaya Namah।

19.
महनीयगुणात्मन्

Mahaniyagunatman

ॐ महनीयगुणात्मने नमः।

Om Mahaniyagunatmane Namah।

20.
मर्त्यपावनपद

Martyapavanapada

ॐ मर्त्यपावनपदाय नमः।

Om Martyapavanapadaya Namah।

21.
महेश

Mahesha

ॐ महेशाय नमः।

Om Maheshaya Namah।

22.
छायापुत्र

Chayaputra

ॐ छायापुत्राय नमः।

Om Chhayaputraya Namah।

23.
शर्व

Sharva

ॐ शर्वाय नमः।

Om Sharvaya Namah।

24.
शततूणीरधारिण्

Shatatuniradharin

ॐ शततूणीरधारिणे नमः।

Om Shatatuniradharine Namah।

25.
चरस्थिरस्वभाव

Charasthirasvabhava

ॐ चरस्थिरस्वभावाय नमः।

Om Charasthirasvabhavaya Namah।

26.
अचञ्चल

Achanchala

ॐ अचञ्चलाय नमः।

Om Achanchalaya Namah।

27.
नीलवर्ण

Nilavarna

ॐ नीलवर्णाय नमः।

Om Nilavarnaya Namah।

28.
नित्य

Nitya

ॐ नित्याय नमः।

Om Nityaya Namah।

29.
नीलाञ्जननिभ

Nilanjananibha

ॐ नीलाञ्जननिभाय नमः।

Om Nilanjananibhaya Namah।

30.
नीलाम्बरविभूशण

Nilambaravibhushana

ॐ नीलाम्बरविभूशणाय नमः।

Om Nilambaravibhushanaya Namah।

31.
निश्चल

Nishchala

ॐ निश्चलाय नमः।

Om Nishchalaya Namah।

32.
वेद्य

Vedya

ॐ वेद्याय नमः।

Om Vedyaya Namah।

33.
विधिरूप

Vidhirupa

ॐ विधिरूपाय नमः।

Om Vidhirupaya Namah।

34.
विरोधाधारभूमी

Virodhadharabhumi

ॐ विरोधाधारभूमये नमः।

Om Virodhadharabhumaye Namah।

35.
भेदास्पदस्वभाव

Bhedaspadasvabhava

ॐ भेदास्पदस्वभावाय नमः।

Om Bhedaspadasvabhavaya Namah।

36.
वज्रदेह

Vajradeha

ॐ वज्रदेहाय नमः।

Om Vajradehaya Namah।

37.
वैराग्यद

Vairagyada

ॐ वैराग्यदाय नमः।

Om Vairagyadaya Namah।

38.
वीर

Vira

ॐ वीराय नमः।

Om Viraya Namah।

39.
वीतरोगभय

Vitarogabhaya

ॐ वीतरोगभयाय नमः।

Om Vitarogabhayaya Namah।

40.
विपत्परम्परेश

Vipatparamparesha

ॐ विपत्परम्परेशाय नमः।

Om Vipatparampareshaya Namah।

41.
विश्ववन्द्य

Vishvavandya

ॐ विश्ववन्द्याय नमः।

Om Vishvavandyaya Namah।

42.
गृध्नवाह

Gridhnavaha

ॐ गृध्नवाहाय नमः।

Om Gridhnavahaya Namah।

43.
गूढ

Gudha

ॐ गूढाय नमः।

Om Gudhaya Namah।

44.
कूर्माङ्ग

Kurmanga

ॐ कूर्माङ्गाय नमः।

Om Kurmangaya Namah।

45.
कुरूपिण्

Kurupin

ॐ कुरूपिणे नमः।

Om Kurupine Namah।

46.
कुत्सित

Kutsita

ॐ कुत्सिताय नमः।

Om Kutsitaya Namah।

47.
गुणाढ्य

Gunadhya

ॐ गुणाढ्याय नमः।

Om Gunadhyaya Namah।

48.
गोचर

Gochara

ॐ गोचराय नमः।

Om Gocharaya Namah।

49.
अविद्यामूलनाश

Avidhyamulanasha

ॐ अविद्यामूलनाशाय नमः।

Om Avidyamulanashanaya Namah।

50.
विद्याविद्यास्वरूपिण्

Vidhyaavidhyasvarupin

ॐ विद्याविद्यास्वरूपिणे नमः।

Om Vidyavidyasvarupine Namah।

51.
आयुष्यकारण

Ayushyakarana

ॐ आयुष्यकारणाय नमः।

Om Ayushyakaranaya Namah।

52.
आपदुद्धर्त्र

Apaduddhartr

ॐ आपदुद्धर्त्रे नमः।

Om Apadurddhatre Namah।

53.
विष्णुभक्त

Vishnubhakta

ॐ विष्णुभक्ताय नमः।

Om Vishnubhaktaya Namah।

54.
वशिन्

Vishin

ॐ वशिने नमः।

Om Vishine Namah।

55.
विविधागमवेदिन्

Vividhagamavedin

ॐ विविधागमवेदिने नमः।

Om Vividhagamavedine Namah।

56.
विधिस्तुत्य

Vidhistutya

ॐ विधिस्तुत्याय नमः।

Om Vidhistutyaya Namah।

57.
वन्द्य

Vandhya

ॐ वन्द्याय नमः।

Om Vandyaya Namah।

58.
विरूपाक्ष

Virupaksha

ॐ विरूपाक्षाय नमः।

Om Virupakshaya Namah।

59.
वरिष्ठ

Varishtha

ॐ वरिष्ठाय नमः।

Om Varishthaya Namah।

60.
गरिष्ठ

Garishtha

ॐ गरिष्ठाय नमः।

Om Garishthaya Namah।

61.
वज्राङ्कुशधर

Vajramkushaghara

ॐ वज्राङ्कुशधराय नमः।

Om Vajrankushadharaya Namah।

62.
वरदाभयहस्त

Varadabhayahasta

ॐ वरदाभयहस्ताय नमः।

Om Varadabhayahastaya Namah।

63.
वामन

Vamana

ॐ वामनाय नमः।

Om Vamanaya Namah।

64.
ज्येष्ठापत्नीसमेत

Jyeshthapatnisameta

ॐ ज्येष्ठापत्नीसमेताय नमः।

Om Jyeshthapatnisametaya Namah।

65.
श्रेष्ठ

Shreshtha

ॐ श्रेष्ठाय नमः।

Om Shreshthaya Namah।

66.
मितभाषिण्

Mitabhashin

ॐ मितभाषिणे नमः।

Om Mitabhashine Namah।

67.
कष्टौघनाशकर्त्र

Kashtaughanashakartr

ॐ कष्टौघनाशकर्त्रे नमः।

Om Kashtaughanashakartre Namah।

68.
पुष्टिद

Pushtida

ॐ पुष्टिदाय नमः।

Om Pushtidaya Namah।

69.
स्तुत्य

Stutya

ॐ स्तुत्याय नमः।

Om Stutyaya Namah।

70.
स्तोत्रगम्य

Stotragamya

ॐ स्तोत्रगम्याय नमः।

Om Stotragamyaya Namah।

71.
भक्तिवश्य

Bhaktivashya

ॐ भक्तिवश्याय नमः।

Om Bhaktivashyaya Namah।

72.
भानु

Bhanu

ॐ भानवे नमः।

Om Bhanave Namah।

73.
भानुपुत्र

Bhanuputra

ॐ भानुपुत्राय नमः।

Om Bhanuputraya Namah।

74.
भव्य

Bhavya

ॐ भव्याय नमः।

Om Bhavyaya Namah।

75.
पावन

Paavana

ॐ पावनाय नमः।

Om Pavanaya Namah।

76.
धनुर्मण्डलसंस्था

Dhanurmandalasamstha

ॐ धनुर्मण्डलसंस्थाय नमः।

Om Dhanurmandalasamsthaya Namah।

77.
धनदा

Dhanada

ॐ धनदाय नमः।

Om Dhanadaya Namah।

78.
धनुष्मत्

Dhanushmat

ॐ धनुष्मते नमः।

Om Dhanushmate Namah।

79.
तनुप्रकाशदेह

Tanuprakashadeha

ॐ तनुप्रकाशदेहाय नमः।

Om Tanuprakashadehaya Namah।

80.
तामस

Tamasa

ॐ तामसाय नमः।

Om Tamasaya Namah।

81.
अशेषजनवन्द्य

Asheshajanavandya

ॐ अशेषजनवन्द्याय नमः।

Om Asheshajanavandyaya Namah।

82.
विशेषफलदायिन्

Visheshaphaladayin

ॐ विशेषफलदायिने नमः।

Om Visheshaphaladayine Namah।

83.
वशीकृतजनेश

Vashikritajanesha

ॐ वशीकृतजनेशाय नमः।

Om Vashikritajaneshaya Namah।

84.
पशूनां पति

Pashunam Pati

ॐ पशूनां पतये नमः।

Om Pashunam Pataye Namah।

85.
खेचर

Khechara

ॐ खेचराय नमः।

Om Khecharaya Namah।

86.
खगेश

Khagesha

ॐ खगेशाय नमः।

Om Khageshaya Namah।

87.
घननीलाम्बर

Ghananilambara

ॐ घननीलाम्बराय नमः।

Om Ghananilambaraya Namah।

88.
काठिन्यमानस

Kathinyamanasa

ॐ काठिन्यमानसाय नमः।

Om Kathinyamanasaya Namah।

89.
आर्यगणस्तुत्य

Aryaganastutya

ॐ आर्यगणस्तुत्याय नमः।

Om Aryaganastutyaya Namah।

90.
नीलच्छत्र

Nilachchhatra

ॐ नीलच्छत्राय नमः।

Om Nilachchhatraya Namah।

91.
नित्य

Nitya

ॐ नित्याय नमः।

Om Nityaya Namah।

92.
निर्गुण

Nirguna

ॐ निर्गुणाय नमः।

Om Nirgunaya Namah।

93.
गुणात्मन्

Gunatman

ॐ गुणात्मने नमः।

Om Gunatmane Namah।

94.
निरामय

Niramaya

ॐ निरामयाय नमः।

Om Niramayaya Namah।

95.
निन्द्य

Nindya

ॐ निन्द्याय नमः।

Om Nindyaya Namah।

96.
वन्दनीय

Vandaniya

ॐ वन्दनीयाय नमः।

Om Vandaniyaya Namah।

97.
धीर

Dhira

ॐ धीराय नमः।

Om Dhiraya Namah।

98.
दिव्यदेह

Divyadeha

ॐ दिव्यदेहाय नमः।

Om Divyadehaya Namah।

99.
दीनार्तिहरण

Dinartiharana

ॐ दीनार्तिहरणाय नमः।

Om Dinartiharanaya Namah।

100.
दैन्यनाशकराय

Dainyanashakara

ॐ दैन्यनाशकराय नमः।

Om Dainyanashakaraya Namah।

101.
आर्यजनगण्य

Aryajanaganya

ॐ आर्यजनगण्याय नमः।

Om Aryajanaganyaya Namah।

102.
क्रूर

Krura

ॐ क्रूराय नमः।

Om Kruraya Namah।

103.
क्रूरचेष्ट

Kruracheshta

ॐ क्रूरचेष्टाय नमः।

Om Kruracheshtaya Namah।

104.
कामक्रोधकर

Kamakrodhakara

ॐ कामक्रोधकराय नमः।

Om Kamakrodhakaraya Namah।

105.
कलत्रपुत्रशत्रुत्वकारण

Kalatraputra-shatrutvakarana

ॐ कलत्रपुत्रशत्रुत्वकारणाय नमः।

Om Kalatraputrashatrutvakaranaya Namah।

106.
परिपोषितभक्त

Pariposhitabhakta

ॐ परिपोषितभक्ताय नमः।

Om Pariposhitabhaktaya Namah।

107.
परभीतिहर

Parabhitihara

ॐ परभीतिहराय नमः।

Om Parabhitiharaya Namah।

108.
भक्तसंघमनोऽभीष्टफलद

Bhaktasanghamano-bhishtaphalada

ॐ भक्तसंघमनोऽभीष्टफलदाय नमः।

Om Bhaktasanghamanoabhishtaphaladaya Namah।
॥इति श्रीशनि अष्टोत्तरशतनामावलिः सम्पूर्णा॥
For 100% Natural, Astro-Rashi Approved, Lab Certified Gemstones/Rudrakshas:
Visit: Purevedicgems.in