Stotras and Sahasarnam For The North Node of Chandra
Stotras and Sahasarnam
II The Rahu II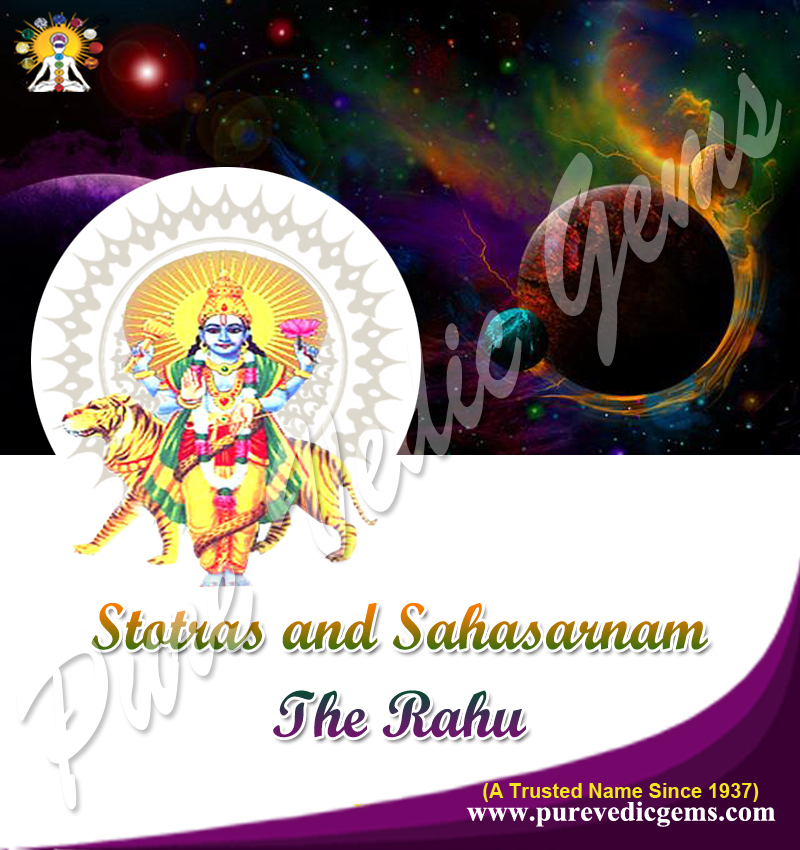 II The Rahu II
The Rahu Mantra
The North Node of Chandra (Moon) is called Rahu in Hindu astrology. Rahu is not a material embodiment and is referred to as Chaya Graha (Shadow planet). Rahu is the northern point where the path of earth around Sun cuts the path of Chandra. When Moon, Sun and Earth come in the same plane near to Rahu the eclipses are caused. Rahu is a malefic and afflicts the planet he is associated with. He is the significator of any sudden event, be in an accident or a lottery gain. He indicates secrecy, dissatisfaction, hidden enemies, greed, proficiency in foreign and artificial languages like computer languages. He represents foreign or alien culture, obsessive personality, mass tragedies and mysterious diseases. He causes abortions, rifts in married life as well as domestic problems. In certain houses in the chart Rahu is better for example, in the 6th house. Regular propitiation measures to Rahu removes above problems. The possibility of accidents, snake bites, allergy etc., are reduced.
Rahu is a shadow planet. It is the ascending point where the orbit of the Moon cuts across ecliptic. It is highly influenced by other planets. According to legend it is head of a demon who cunningly had nectar and later is punished by Lord Vishnu's Sudershan discus. Rahu as well as Ketu are universally malefic planets. They adversely affect all those planets with whom they are conjoined with or are aspecting closely i.e. within 5 degrees of the ascending degree or the house they are posited in. Rahu has similar qualities as that of malefic Saturn. When Rahu is in a position to affect adversely some of the planets and/or houses, use of Rahu mantra is very benefic and favourable. However, inflecting Rahu showers its blessings to the house it occupies. It is personified as diplomat and being a shadowy planet it indicates related jobs such as diplomatic jobs, jobs requiring manipulations with facts. It signifies cheats, pleasure, seekers, insincere and immoral acts operators in foreign lands etc.
Afflicting Rahu causes diseases like phlegm, boils, weak nervous system, ulcers, high blood pressure, heart trouble, epidemics, psychic disturbances, hallucinations, hysteria, insanity etc.
Rahu is worshipped in the night on Saturday. Rahu sadhana is more effective & beneficial if performed on Sarvarth Siddhi Yoga falling on Saturday. Rahu is worshipped with the idol made of lead. Rahu worship is done with the articles of Rahu like hessonite, lead, blue cloth etc., should be donated. Feeding an elephant is also considered beneficial for propitiation of Rahu.
1/10 of homa be done with durva leaves and 1/10 of homa is done as tarpan and 1/10 of tarpan be done as marzan. After that the devotee should donate articles of Rahu. After realization of the mantra brahmins are fed with rice.
राहु स्तोत्रम्
अस्य श्रीराहुस्तोत्रस्य वामदेव ऋषिः । गायत्री छन्दः । राहुर्देवता ।
राहुप्रीत्यर्थं जपे विनियोगः ॥
राहुर्दानव मन्त्री च सिंहिकाचित्तनन्दनः ।
अर्धकायः सदाक्रोधी चन्द्रादित्यविमर्दनः ॥ १ ॥
रौद्रो रुद्रप्रियो दैत्यः स्वर्भानुर्भानुमीतिदः ।
ग्रहराजः सुधापायी राकातिथ्यभिलाषुकः ॥ २ ॥
कालदृष्टिः कालरुपः श्रीकष्ठह्रदयाश्रयः ।
विधुंतुदः सैंहिकेयो घोररुपो महाबलः ॥ ३ ॥
ग्रहपीडाकरो द्रंष्टी रक्तनेत्रो महोदरः ।
पञ्चविंशति नामानि स्मृत्वा राहुं सदा नरः ॥ ४ ॥
यः पठेन्महती पीडा तस्य नश्यति केवलम् ।
विरोग्यं पुत्रमतुलां श्रियं धान्यं पशूंस्तथा ॥ ५ ॥
ददाति राहुस्तस्मै यः पठते स्तोत्रमुत्तमम् ।
सततं पठते यस्तु जीवेद्वर्षशतं नरः ॥ ६ ॥ ॥
इति श्रीस्कन्दपुराणे राहुस्तोत्रं संपूर्णम् ॥
Ashtottara Shatanamavali of Lord Rahu
| | | |
| --- | --- | --- |
| 1. | ॐ राहवे नमः। | Om Rahave Namah। |
| 2. | ॐ सैंहिकेयाय नमः। | Om Saimhikeyaya Namah। |
| 3. | ॐ विधुन्तुदाय नमः। | Om Vidhuntudaya Namah। |
| 4. | ॐ सुरशत्रवे नमः। | Om Surashatrave Namah। |
| 5. | ॐ तमसे नमः। | Om Tamase Namah। |
| 6. | ॐ फणिने नमः। | Om Phanine Namah। |
| 7. | ॐ गार्ग्यनयाय नमः। | Om Gargyanayaya Namah। |
| 8. | ॐ सुरापिने नमः। | Om Surapine Namah। |
| 9. | ॐ नीलजीमूतसङ्काशाय नमः। | Om Nilajimutasankashaya Namah। |
| 10. | ॐ चतुर्भुजाय नमः। | Om Chaturbhujaya Namah। |
| 11. | ॐ खङ्गखेटकधारिणे नमः। | Om Khadgakhetakadharine Namah। |
| 12. | ॐ वरदायकहस्तकाय नमः। | Om Varadayakahastakaya Namah। |
| 13. | ॐ शूलायुधाय नमः। | Om Shulayudhaya Namah। |
| 14. | ॐ मेघवर्णाय नमः। | Om Meghavarnaya Namah। |
| 15. | ॐ कृष्णध्वजपताकावते नमः। | Om Krishnadhwajapatakavate Namah। |
| 16. | ॐ दक्षिणाशामुखरथाय नमः। | Om Dakshinashamukharathaya Namah। |
| 17. | ॐ तीक्ष्णदंष्ट्रकरालकाय नमः। | Om Tikshnadamshtrakaralakaya Namah। |
| 18. | ॐ शूर्पाकारसंस्थाय नमः। | Om Shurpakarasamsthaya Namah। |
| 19. | ॐ गोमेदाभरणप्रियाय नमः। | Om Gomedabharanapriyaya Namah। |
| 20. | ॐ माषप्रियाय नमः। | Om Mashapriyaya Namah। |
| 21. | ॐ कश्यपर्षिनन्दनाय नमः। | Om Kashyaparshinandanaya Namah। |
| 22. | ॐ भुजगेश्वराय नमः। | Om Bhujageshvaraya Namah। |
| 23. | ॐ उल्कापातयित्रे नमः। | Om Ulkapatayitre Namah। |
| 24. | ॐ शूलिने नमः। | Om Shuline Namah। |
| 25. | ॐ निधिपाय नमः। | Om Nidhipaya Namah। |
| 26. | ॐ कृष्णसर्पराजे नमः। | Om Krishnasarparaje Namah। |
| 27. | ॐ विषज्वलावृतास्याय अर्धशरीराय नमः। | Om Vishajwalavritasyaya Ardhashariraya Namah। |
| 28. | ॐ शात्रवप्रदाय नमः। | Om Shatravapradaya Namah। |
| 29. | ॐ रवीन्दुभीकराय नमः। | Om Ravindubhikaraya Namah। |
| 30. | ॐ छायास्वरूपिणे नमः। | Om Chhayaswarupine Namah। |
| 31. | ॐ कठिनाङ्गकाय नमः। | Om Kathinangakaya Namah। |
| 32. | ॐ द्विषच्चक्रच्छेदकाय नमः। | Om Dwishachchakrachchhedakaya Namah। |
| 33. | ॐ करालास्याय नमः। | Om Karalasyaya Namah। |
| 34. | ॐ भयङ्कराय नमः। | Om Bhayankaraya Namah। |
| 35. | ॐ क्रूरकर्मणे नमः। | Om Krurakarmane Namah। |
| 36. | ॐ तमोरूपाय नमः। | Om Tamorupaya Namah। |
| 37. | ॐ श्यामात्मने नमः। | Om Shyamatmane Namah। |
| 38. | ॐ नीललोहिताय नमः। | Om Nilalohitaya Namah। |
| 39. | ॐ किरीटिणे नमः। | Om Kiritine Namah। |
| 40. | ॐ नीलवसनाय नमः। | Om Nilavasanaya Namah। |
| 41. | ॐ शनिसमान्तवर्त्मगाय नमः। | Om Shanisamantavartmagaya Namah। |
| 42. | ॐ चाण्डालवर्णाय नमः। | Om Chandalavarnaya Namah। |
| 43. | ॐ अश्व्यर्क्षभवाय नमः। | Om Ashvyarkshabhavaya Namah। |
| 44. | ॐ मेषभवाय नमः। | Om Meshabhavaya Namah। |
| 45. | ॐ शनिवत्फलदाय नमः। | Om Shanivatphaladaya Namah। |
| 46. | ॐ शूराय नमः। | Om Shuraya Namah। |
| 47. | ॐ अपसव्यगतये नमः। | Om Apasavyagataye Namah। |
| 48. | ॐ उपरागकराय नमः। | Om Uparagakaraya Namah। |
| 49. | ॐ सोमसूर्यच्छविविमर्दकाय नमः। | Om Somasuryachchhavivimardakaya Namah। |
| 50. | ॐ नीलपुष्पविहाराय नमः। | Om Nilapushpaviharaya Namah। |
| 51. | ॐ ग्रहश्रेष्ठाय नमः। | Om Grahashreshthaya Namah। |
| 52. | ॐ अष्टमग्रहाय नमः। | Om Ashtamagrahaya Namah। |
| 53. | ॐ कबन्धमात्रदेहाय नमः। | Om Kabandhamatradehaya Namah। |
| 54. | ॐ यातुधानकुलोद्भवाय नमः। | Om Yatudhanakulodbhavaya Namah। |
| 55. | ॐ गोविन्दवरपात्राय नमः। | Om Govindavarapatraya Namah। |
| 56. | ॐ देवजातिप्रविष्टकाय नमः। | Om Devajatipravishtakaya Namah। |
| 57. | ॐ क्रूराय नमः। | Om Kruraya Namah। |
| 58. | ॐ घोराय नमः। | Om Ghoraya Namah। |
| 59. | ॐ शनेर्मित्राय नमः। | Om Shanermitraya Namah। |
| 60. | ॐ शुक्रमित्राय नमः। | Om Shukramitraya Namah। |
| 61. | ॐ अगोचराय नमः। | Om Agocharaya Namah। |
| 62. | ॐ माने गङ्गास्नानदात्रे नमः। | Om Mane Gangasnanadatre Namah। |
| 63. | ॐ स्वगृहे प्रबलाढ्यदाय नमः। | Om Swagrihe Prabaladhyadaya Namah। |
| 64. | ॐ सद्गृहेऽन्यबलधृते नमः। | Om Sadgriheanyabaladhrite Namah। |
| 65. | ॐ चतुर्थे मातृनाशकाय नमः। | Om Chaturthe Matrinashakaya Namah। |
| 66. | ॐ चन्द्रयुक्ते चण्डालजन्मसूचकाय नमः। | Om Chandrayukte Chandalajanmasuchakaya Namah। |
| 67. | ॐ सिंहजन्मने नमः। | Om Simhajanmane Namah। |
| 68. | ॐ राज्यदात्रे नमः। | Om Rajyadatre Namah। |
| 69. | ॐ महाकायाय नमः। | Om Mahakayaya Namah। |
| 70. | ॐ जन्मकर्त्रे नमः। | Om Janmakartre Namah। |
| 71. | ॐ विधुरिपवे नमः। | Om Vidhuripave Namah। |
| 72. | ॐ मादकज्ञानदाय नमः। | Om Madakagyanadaya Namah। |
| 73. | ॐ जन्मकन्याराज्यदात्रे नमः। | Om Janmakanyarajyadatre Namah। |
| 74. | ॐ जन्महानिदाय नमः। | Om Janmahanidaya Namah। |
| 75. | ॐ नवमे पितृहन्त्रे नमः। | Om Navame Pitrihantre Namah। |
| 76. | ॐ पञ्चमे शोकदायकाय नमः। | Om Panchame Shokadayakaya Namah। |
| 77. | ॐ द्यूने कलत्रहन्त्रे नमः। | Om Dyune Kalatrahantre Namah। |
| 78. | ॐ सप्तमे कलहप्रदाय नमः। | Om Saptame Kalahapradaya Namah। |
| 79. | ॐ षष्ठे वित्तदात्रे नमः। | Om Shashthe Vittadatre Namah। |
| 80. | ॐ चतुर्थे वैरदायकाय नमः। | Om Chaturthe Vairadayakaya Namah। |
| 81. | ॐ नवमे पापदात्रे नमः। | Om Navame Papadatre Namah। |
| 82. | ॐ दशमे शोकदायकाय नमः। | Om Dashame Shokadayakaya Namah। |
| 83. | ॐ आदौ यशः प्रदात्रे नमः। | Om Adau Yashah Pradatre Namah। |
| 84. | ॐ अन्ते वैरप्रदायकाय नमः। | Om Ante Vairapradayakaya Namah। |
| 85. | ॐ कालात्मने नमः। | Om Kalatmane Namah। |
| 86. | ॐ गोचराचाराय नमः। | Om Gocharacharaya Namah। |
| 87. | ॐ धने ककुत्प्रदाय नमः। | Om Dhane Kakutpradaya Namah। |
| 88. | ॐ पञ्चमे धिशणाशृङ्गदाय नमः। | Om Panchame Dhishanashringadaya Namah। |
| 89. | ॐ स्वर्भानवे नमः। | Om Swarbhanave Namah। |
| 90. | ॐ बलिने नमः। | Om Baline Namah। |
| 91. | ॐ महासौख्यप्रदायिने नमः। | Om Mahasaukhyapradayine Namah। |
| 92. | ॐ चन्द्रवैरिणे नमः। | Om Chandravairine Namah। |
| 93. | ॐ शाश्वताय नमः। | Om Shashvataya Namah। |
| 94. | ॐ सुरशत्रवे नमः। | Om Surashatrave Namah। |
| 95. | ॐ पापग्रहाय नमः। | Om Papagrahaya Namah। |
| 96. | ॐ शाम्भवाय नमः। | Om Shambhavaya Namah। |
| 97. | ॐ पूज्यकाय नमः। | Om Pujyakaya Namah। |
| 98. | ॐ पाटीरपूरणाय नमः। | Om Patirapuranaya Namah। |
| 99. | ॐ पैठीनसकुलोद्भवाय नमः। | Om Paithinasakulodbhavaya Namah। |
| 100. | ॐ भक्तरक्षाय नमः। | Om Bhaktarakshaya Namah। |
॥ इति राहु अष्टोत्तरशतनामावलिः सम्पूर्णम् ॥
For 100% Natural, Astro-Rashi Approved, Lab Certified Gemstones/Rudrakshas:
Visit: Purevedicgems.in