Stotras and Sahasarnam-The Venus
Stotras and Sahasarnam
II The Venus II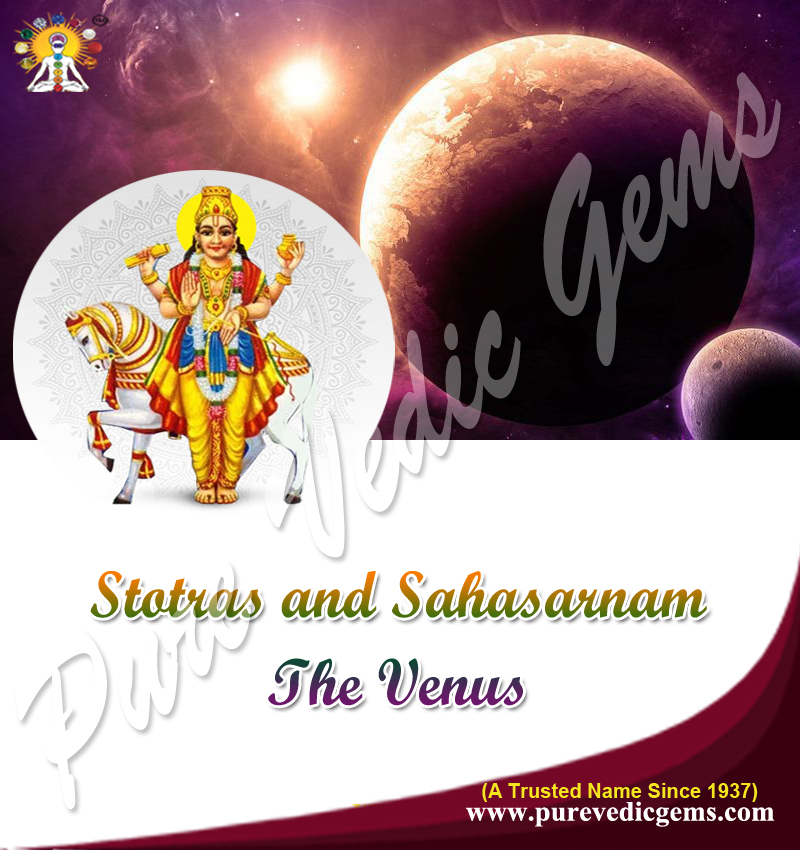 II The Venus II
The Venus Mantra
The Planet Venus ( Sukra) in a natural benefic planet like guru in Hindu Astrology. Sukra means "bright" and "potency" in Sanskrit. Venus is the karaka of spouse, love, luxury, beauty, prosperity and fine arts. Sukra, is known as the teacher of Rakshasas. Guru (Jupiter) is the welfare minister while Sukra is the cultural minister in the cabinet of the planets. The main concern of Sukra will be to provide cultual developement. A prominent sukra in the chart will give the native wealth, artful taste and proficiency in fine arts. An afflicted Sukra would cause hormonal problems, glandular malfunctions like diabetes. Propitiation to Sukra will bring about union in the estranged couple, will bestow wealth and gives the native orientation towards enjoyment of life.
Venus is a female planet. It is considered guru (preceptor) of demons, the Sukracharya. It is a female planet and lord of Taurus and Libra. It signifies luxuries in the chart. It is warm and moist in nature.
It signifies the attitude of the persons in the field of art, modelling, painting, music, acting, legal teachings, advertisement etc. When Venus is malefic, recital of Venus mantra is very benefic and favourable. Venus bestows respect, love of opposite sex and peace of mind. If Venus is debilitated in Virgo, or is posited in the 6th, 8th or 12th houses or is aspected by malefic planets, it is bad for the sexual life of the native. It represents pelvis and sexual organs, kidneys in body. When it is weak it causes venereal diseases, diseases of urinary or reproductive system, diabetes, anaemia, stones in bladder or kidneys, cataract, weakness of sexual organs etc.
Venus is worshipped on sarwarth siddhi yoga during shukla paksha on Friday. If Pushya Nakshatra is on that day, it is even better. The rosary of sphatik (crystal) or pearl is used. Some scholars advise use of rudraksha or tulsi mala for japa of the mantra. The idol for the worship should be silver in colour. For better results, the devotee is advised to perform homas withscented white flowers for twenty one Fridays or with the twigs of gular.
॥ शुक्रस्तोत्रम् ॥
अथ शुक्रस्तोत्रप्रारम्भः ।
शृण्वन्तु मुनयः सर्वे शुक्रस्तोत्रमिदं शुभम् ।
रहस्यं सर्वभूतानां शुक्रप्रीतिकरं शुभम् ॥ १॥
येषां सङ्कीर्तनान्नित्यं सर्वान् कामानवाप्नुयात् ।
तानि शुक्रस्य नामानि कथयामि शुभानि च ॥ २॥
शुक्रः शुभग्रहः श्रीमान् वर्षकृद्वर्षविघ्नकृत् ।
तेजोनिधिर्ज्ञानदाता योगी योगविदां वरः ॥ ३॥
दैत्यसञ्जीवनो धीरो दैत्यनेतोशना कविः ।
नीतिकर्ता ग्रहाधीशो विश्वात्मा लोकपूजितः ॥ ४॥
शुक्लमाल्याम्बरधरः श्रीचन्दनसमप्रभः ।
अक्षमालाधरः काव्यः तपोमूर्तिर्धनप्रदः ॥ ५॥
चतुर्विंशतिनामानि अष्टोत्तरशतं यथा ।
देवस्याग्रे विशेषेण पूजां कृत्वा विधानतः ॥ ६॥
य इदं पठति स्तोत्रं भार्गवस्य महात्मनः ।
विषमस्थोऽपि भगवान् तुष्टः स्यान्नात्र संशयः ॥ ७॥
स्तोत्रं भृगोरिदमनन्तगुणप्रदं यो
भक्त्या पठेच्च मनुजो नियतः शुचिः सन् ।
प्राप्नोति नित्यमतुलां श्रियमीप्सितार्थान्
राज्यं समस्तधनधान्ययुतां समृद्धिम् ॥ ८॥
इति शुक्रस्तोत्रं समाप्तम् ।
!! Ashtottara Shatanamavali Of Shukra !!
1.     ॐ शुक्राय नमः।                                                          Om Shukraya Namah।
2.    ॐ शुचये नमः।                                                           Om Shuchaye Namah।
3.    ॐ शुभगुणाय नमः।                                                    Om Shubhagunaya Namah।
4.    ॐ शुभदाय नमः।                                                       Om Shubhadaya Namah।
5.    ॐ शुभलक्षणाय नमः।                                                 Om Shubhalakshanaya Namah।
6.    ॐ शोभनाक्षाय नमः।                                                  Om Shobhanakshaya Namah।
7.    ॐ शुभ्रवाहाय नमः।                                                    Om Shubhravahaya Namah।
8.    ॐ शुद्धस्फटिकभास्वराय नमः।                                  Om Shuddhasphatikabhasvaraya Namah।
9.    ॐ दीनार्तिहरकाय नमः।                                             Om Dinartiharakaya Namah।
10.   ॐ दैत्यगुरवे नमः।                                                    Om Daityagurave Namah।
11.    ॐ देवाभिवन्दिताय नमः।                                          Om Devabhivanditaya Namah।
12.    ॐ काव्यासक्ताय नमः।                                            Om Kavyasaktaya Namah।
13.    ॐ कामपालाय नमः।                                                Om Kamapalaya Namah।
14.    ॐ कवये नमः।                                                         Om Kavaye Namah।
15.    ॐ कल्याणदायकाय नमः।                                        Om Kalyanadayakaya Namah।
16.    ॐ भद्रमूर्तये नमः।                                                    Om Bhadramurtaye Namah।
17.    ॐ भद्रगुणाय नमः।                                                    Om Bhadragunaya Namah।
18.    ॐ भार्गवाय नमः।                                                     Om Bhargavaya Namah।
19.    ॐ भक्तपालनाय नमः।                                              Om Bhaktapalanaya Namah।
20.    ॐ भोगदाय नमः।                                                    Om Bhogadaya Namah।
21.     ॐ भुवनाध्यक्षाय नमः।                                             Om Bhuvanadhyakshaya Namah।
22.     ॐ भुक्तिमुक्तिफलप्रदाय नमः।                               Om Bhuktimuktiphalapradaya Namah।
23.     ॐ चारुशीलाय नमः।                                              Om Charushilaya Namah।
24.     ॐ चारुरूपाय नमः।                                               Om Charurupaya Namah।
25.     ॐ चारुचन्द्रनिभाननाय नमः।                                   Om Charuchandranibhananaya Namah।
26.     ॐ निधये नमः।                                                        Om Nidahye Namah।
27.     ॐ निखिलशास्त्रज्ञाय नमः।                                       Om Nikhilashastragyaya Namah।
28.    ॐ नीतिविद्याधुरन्धराय नमः।                                     Om Nitividyadhurandharaya Namah।
29.    ॐ सर्वलक्षणसम्पन्नाय नमः।                                      Om Sarvalakshanasampannaya Namah।
30.    ॐ सर्वापद्गुणवर्जिताय नमः।                                   Om Sarvapadgunavarjitaya Namah।
31.    ॐ समानाधिकनिर्मुक्ताय नमः।                                 Om Samanadhikanirmuktaya Namah।
32.    ॐ सकलागमपारगाय नमः।                                     Om Sakalagamaparagaya Namah।
33.    ॐ भृगवे नमः।                                                         Om Bhrigave Namah।
34.    ॐ भोगकराय नमः।                                                 Om Bhogakaraya Namah।
35.    ॐ भूमिसुरपालनतत्पराय नमः।                                Om Bhumisurapalanatatparaya Namah।
36.    ॐ मनस्विने नमः।                                                   Om Manasvine Namah।
37.    ॐ मानदाय नमः।                                                    Om Manadaya Namah।
38.    ॐ मान्याय नमः।                                                     Om Manyaya Namah।
39.    ॐ मायातीताय नमः।                                               Om Mayatitaya Namah।
40.    ॐ महायशसे नमः।                                                 Om Mahayashase Namah।
41.    ॐ बलिप्रसन्नाय नमः।                                               Om Baliprasannaya Namah।
42.    ॐ अभयदाय नमः।                                                 Om Abhayadaya Namah।
43.    ॐ बलिने नमः।                                                       Om Baline Namah।
44.    ॐ सत्यपराक्रमाय नमः।                                          Om Satyaparakramaya Namah।
45.    ॐ भवपाशपरित्यागाय नमः।                                    Om Bhavapashaparityagaya Namah।
46.    ॐ बलिबन्धविमोचकाय नमः।                                  Om Balibandhavimochakaya Namah।
47.    ॐ घनाशयाय नमः।                                                 Om Ghanashayaya Namah।
48.    ॐ घनाध्यक्षाय नमः।                                                Om Ghanadhyakshaya Namah।
49.    ॐ कम्बुग्रीवाय नमः।                                                Om Kambugrivaya Namah।
50.    ॐ कलाधराय नमः।                                                 Om Kaladharaya Namah।
51.    ॐ कारुण्यरससम्पूर्णाय नमः।                                  Om Karunyarasasampurnaya Namah।
52.    ॐ कल्याणगुणवर्धनाय नमः।                                   Om Kalyanagunavardhanaya Namah।
53.    ॐ श्वेताम्बराय नमः।                                                Om Shvetambaraya Namah।
54.    ॐ श्वेतवपुषे नमः।                                                    Om Shvetavapushe Namah।
55.    ॐ चतुर्भुजसमन्विताय नमः।                                    Om Chaturbhujasamanvitaya Namah।
56.    ॐ अक्षमालाधराय नमः।                                         Om Akshamaladharaya Namah।
57.    ॐ अचिन्त्याय नमः।                                                Om Achintyaya Namah।
58.    ॐ अक्षीणगुणभासुराय नमः।                                   Om Akshinagunabhasuraya Namah।
59.    ॐ नक्षत्रगणसञ्चाराय नमः।                                      Om Nakshatraganasancharaya Namah।
60.    ॐ नयदाय नमः।                                                     Om Nayadaya Namah।
61.    ॐ नीतिमार्गदाय नमः।                                             Om Nitimargadaya Namah।
62.    ॐ वर्षप्रदाय नमः।                                                   Om Varshapradaya Namah।
63.    ॐ हृषीकेशाय नमः।                                                Om Hrishikeshaya Namah।
64.    ॐ क्लेशनाशकराय नमः।                                        Om Kleshanashakaraya Namah।
65.    ॐ कवये नमः।                                                        Om Kavaye Namah।
66.    ॐ चिन्तितार्थप्रदाय नमः।                                         Om Chintitarthapradaya Namah।
67.    ॐ शान्तमतये नमः।                                                 Om Shantamataye Namah।
68.    ॐ चित्तसमाधिकृते नमः।                                         Om Chittasamadhikrite Namah।
69.    ॐ आधिव्याधिहराय नमः।                                       Om Adhivyadhiharaya Namah।
70.    ॐ भूरिविक्रमाय नमः।                                             Om Bhurivikramaya Namah।
71.    ॐ पुण्यदायकाय नमः।                                             Om Punyadayakaya Namah।
72.    ॐ पुराणपुरुषाय नमः।                                             Om Puranapurushaya Namah।
73.    ॐ पूज्याय नमः।                                                      Om Pujyaya Namah।
74.    ॐ पुरुहूतादिसन्नुताय नमः।                                      Om Puruhutadisannutaya Namah।
75.    ॐ अजेयाय नमः।                                                    Om Ajeyaya Namah।
76.    ॐ विजितारातये नमः।                                             Om Vijitarataye Namah।
77.    ॐ विविधाभरणोज्ज्वलाय नमः।                                 Om Vividhabharanojjvalaya Namah।
78.    ॐ कुन्दपुष्पप्रतीकाशाय नमः।                                 Om Kundapushpapratikashaya Namah।
79.    ॐ मन्दहासाय नमः।                                                Om Mandahasaya Namah।
80.   ॐ महामतये नमः।                                                   Om Mahamataye Namah।
81.    ॐ मुक्ताफलसमानाभाय नमः।                                Om Muktaphalasamanabhaya Namah।
82.    ॐ मुक्तिदाय नमः।                                                 Om Muktidaya Namah।
83.    ॐ मुनिसन्नुताय नमः।                                              Om Munisannutaya Namah।
84.    ॐ रत्नसिंहासनारूढाय नमः।                                   Om Ratnasimhasanarudhaya Namah।
85.    ॐ रथस्थाय नमः।                                                    Om Rathasthaya Namah।
86.    ॐ रजतप्रभाय नमः।                                                Om Rajataprabhaya Namah।
87.    ॐ सूर्यप्राग्देशसञ्चाराय नमः।                                    Om Suryapragdeshasancharaya Namah।
88.    ॐ सुरशत्रुसुहृदे नमः।                                             Om Surashatrusuhride Namah।
89.    ॐ कवये नमः।                                                        Om Kavaye Namah।
90.    ॐ तुलावृषभराशीशाय नमः।                                   Om Tulavrishabharashishaya Namah।
91.    ॐ दुर्धराय नमः।                                                      Om Durdharaya Namah।
92.    ॐ धर्मपालकाय नमः।                                             Om Dharmapalakaya Namah।
93.    ॐ भाग्यदाय नमः।                                                  Om Bhagyadaya Namah।
94.    ॐ भव्यचारित्राय नमः।                                            Om Bhavyacharitraya Namah।
95.    ॐ भवपाशविमोचकाय नमः।                                   Om Bhavapashavimochakaya Namah।
96.    ॐ गौडदेशेश्वराय नमः।                                            Om Gaudadesheshvaraya Namah।
97.    ॐ गोप्त्रे नमः।                                                          Om Goptre Namah।
98.    ॐ गुणिने नमः।                                                       Om Gunine Namah।
99.    ॐ गुणविभूषणाय नमः।                                           Om Gunavibhushanaya Namah।
100.  ॐ ज्येष्ठानक्षत्रसम्भूताय नमः।                                  Om Jyeshthanakshatrasambhutaya Namah।
101.  ॐ ज्येष्ठाय नमः।                                                      Om Jyeshthaya Namah।
102.  ॐ श्रेष्ठाय नमः।                                                        Om Shreshthaya Namah।
103.  ॐ शुचिस्मिताय नमः।                                               Om Shuchismitaya Namah।
104.  ॐ अपवर्गप्रदाय नमः।                                             Om Apavargapradaya Namah।
105.  ॐ अनन्ताय नमः।                                                   Om Anantaya Namah।
106.  ॐ सन्तानफलदायकाय नमः।                                  Om Santanaphaladayakaya Namah।
107.  ॐ सर्वैश्वर्यप्रदाय नमः।                                             Om Sarvaishvaryapradaya Namah।
108.  ॐ सर्वगीर्वाणगणसन्नुताय नमः।                               Om Sarvagirvanaganasannutaya Namah।
For 100% Natural, Astro-Rashi Approved, Lab Certified Gemstones/Rudrakshas:
Visit: Purevedicgems.in