Saraswati Mantras For Knowledge And Creative Achievement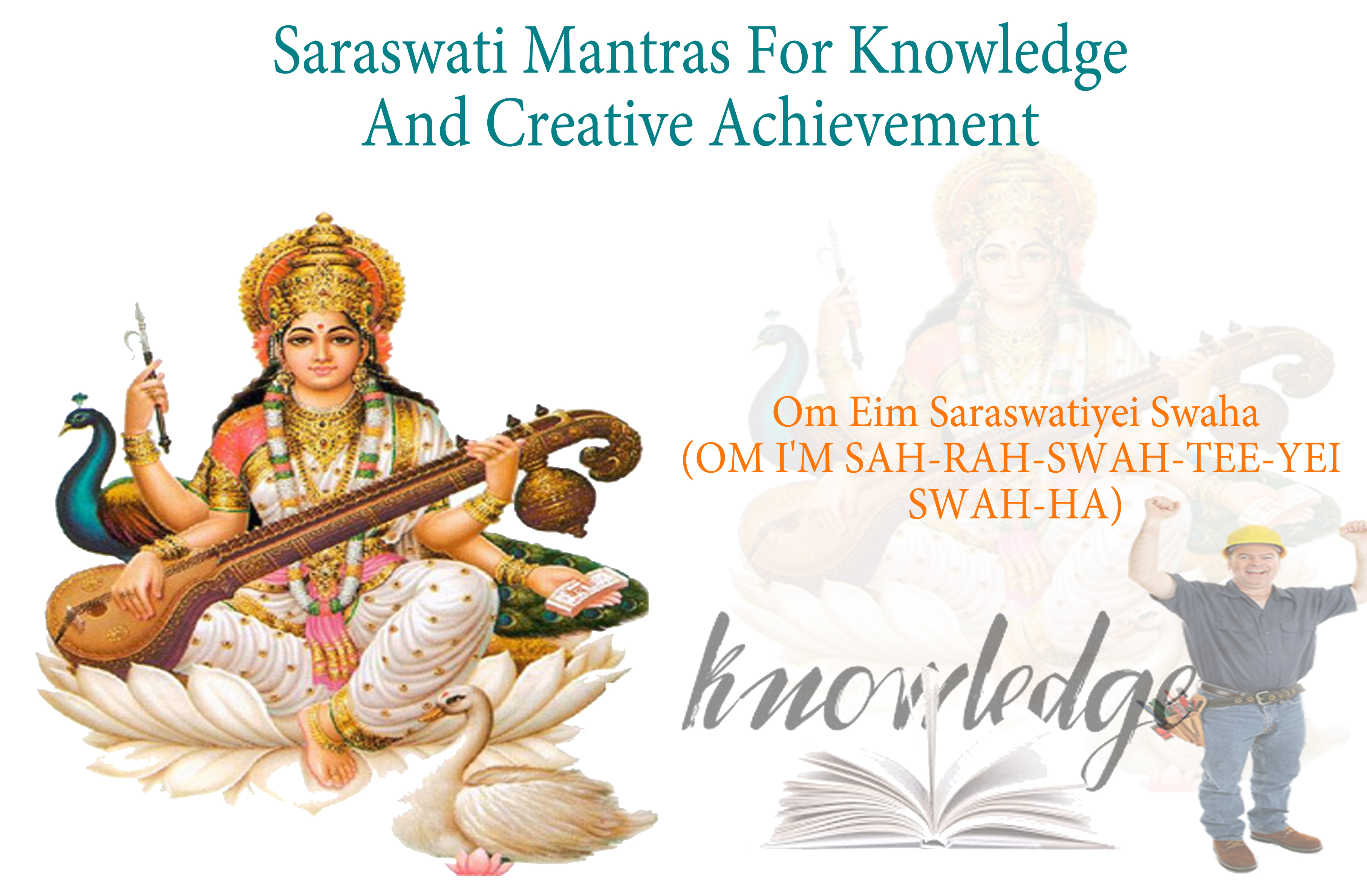 Saraswati Mantras For Knowledge And Creative Achievement :-
Shown holding a stringed instrument in one hand and a mala in the other, with a book at her feet, Saraswati is a feminine power that activates and sustains artistic, academic, and spiritual endeavors. Eastern artists and musicians practice Saraswati japa (recitation of mantra). Mothers chant Saraswati japa on behalf of their children to help them do well in school. Spiritual teachers chant Saraswati japa to obtain the capacity to hold the highest wisdom. Teachers, secular and spiritual, chant Saraswati japa to ensure that the words coming out of their mouths contain the truth and correct principles desired. They want to be persuasive to their hearers. All this is the province of Saraswati.
Saraswati is one of the Hindu feminine trinity of Lakshmi, Durga, and Saraswati. But her power is least talked about in the west. We hear much about Lakshmi's gifts of abundance and Durga's provisions of protection., but much less about Saraswati. Why should this be? It may be that most knowledgeable spiritual teachers from the Far East want to keep "True spiritual knowledge" secret, and Saraswati is the path to that knowledge.
In the earliest Vedic writings, Saraswati is referred to as Vach, the goddess of speech in the primordial sense- that is, the source of all speech, both divine and mundane. She represents:
* The sacrificial word, the primal cause, and the mystical "name" referred to by the Kabbalists.
* The power, mistress, and constructor of mantra.
* The goddess of hidden wisdom.
There is an old and ongoing "divine disputation" to determine which is superior, mind or speech. The final answer in this discussion is that ultimately mind is superior, but only after the realm of creation has been left behind. The " catch" is that the realm of creation includes all of the subtle realms wherein masters and all the celestials in all the spheres may dwell. Mind assumes preeminence only when we withdraw our consciousness from the Akashic realm accessible through the Vishuddha Chakra at the throat center and travel to the place where duality ends.
The significance of Saraswati for today's practitioner of mantra can be summed up in a few points. The Saraswati energy, according to the ancient scriptures.
* Governs all spiritual pursuits.
* Gives mantras their power-spirituals teachers and gurus transmit the power of mantra through the Saraswati         energy.
* Rules followers of the path of intellectual understanding and mind.
* Governs the transmission of a powerful shakti, or energy of transformation, as recorded by many famous teachers such as Yogananda and Ramakrishna.
* Is adopted by many Himalayan adepts and swamis as part of their spiritual name.
Mantra for Success in Education, Music, and Artistic Endeavors :-
Om Eim Saraswatiyei Swaha
(OM I'M SAH-RAH-SWAH-TEE-YEI SWAH-HA)
"Om and salutations to the feminine Saraswati Principle."
In any creative endeavor, this mantra invokes energy for making the project fruitful and successful.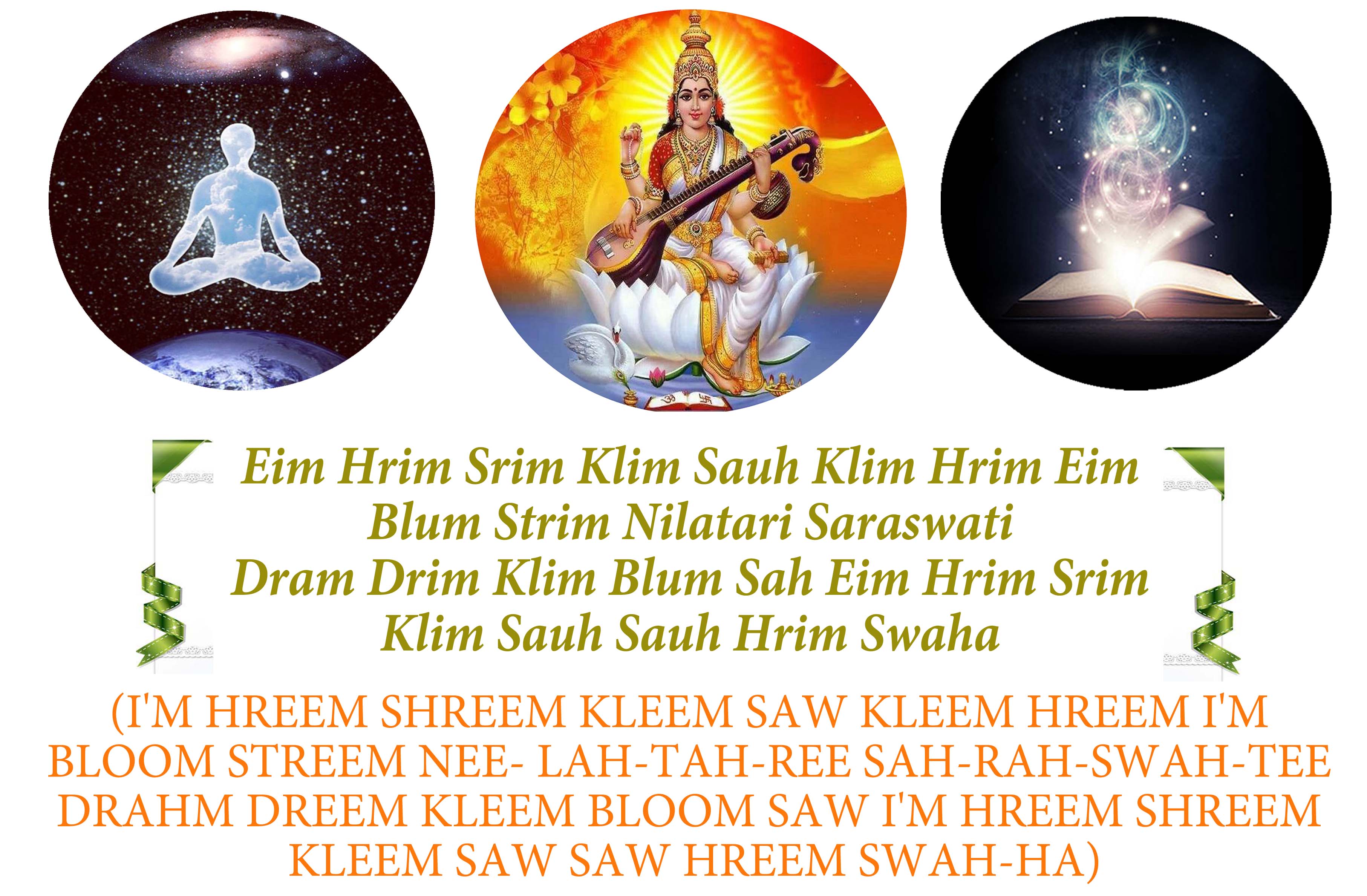 Maha Vidya : Queen of Knowledge Mantra :-
Eim Hrim Srim Klim Sauh Klim Hrim Eim
Blum Strim Nilatari Saraswati
Dram Drim Klim Blum Sah Eim Hrim Srim
Klim Sauh Sauh Hrim Swaha
(I'M HREEM SHREEM KLEEM SAW KLEEM HREEM I'M BLOOM STREEM NEE- LAH-TAH-REE SAH-RAH-SWAH-TEE DRAHM DREEM KLEEM BLOOM SAW I'M HREEM SHREEM KLEEM SAW SAW HREEM SWAH-HA)
This Saraswati " freight train" mantra is a succession of seed mantras and is therefore essentially untranslatable. Faithful repetition of this mantra will, over time, transform the sayer into a person of great spiritual knowledge.
Please Visit Our Website : https://www.purevedicgems.com/