Moon in the 4th house of horoscope-
Moon in the 4th house of horoscope-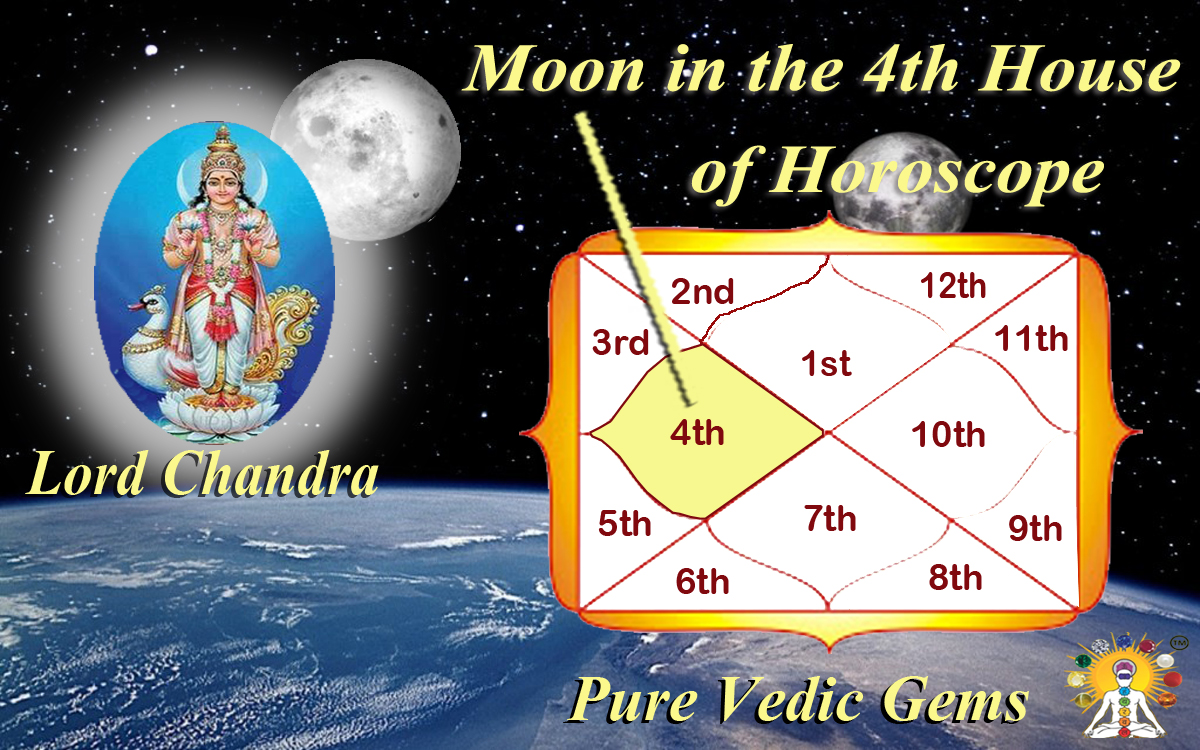 Moon in the 4th House / Benefits of Moon in 4th House of Horoscope/Characteristics of Moon in 4th House of Horoscope-
Moon in the 4th house of horoscope-
This house chiefly rules mother (including breast feeding by real mother or otherwise), inheritance of knowledge, experience and quality of character or absence there of from the mother.
in addition, this house rules conveyance, friends, property, food and diet, digestive system,thinness or fatness of body,moreso of the middle part of it, comfort or lack of comfort in bedroom, and sound or disturbed sleep.
This house rules also keeping and maintaining cattle for milk (cow, buffalo, goat, sheep, sometimes camel too) and also as means of transport (male-buffalo, horse, pony, donkey, elephant, camel), dogs in much higher latitude (lands of extreme snow like Iceland).
Moon being a soft planet but given to waxing and waning condition in so far as residents on Earth are concerned, it tries its best to give good results with regard to the above stated subjects.
But being a fast moving planet and also having the weakness of being dominated and overruled by other soft and hard planets, its capacity for giving good results becomes limited.
Then it very much depends on the Rasi in the 4th house, its lord, placement of the lord in the birth chart and intra-relationship with Moon. Navamsha chart too plays a very strong effect with regard to Moon in the 4th house.
Moon gives diminished results when Aries, Scorpio, Capricorn or Aquarius is in the 4th house and all the more reduced results if Mars and Saturn have 6:8 inimical relations with Moon.
In all these considerations, recall that Moon is lord of the Mind in every human being. The individual's pleasant or unpleasant attitude towards events and developments concerning or surrounding him or her would to a great extent depend on the attitude of the individual's mind. Lord Krishna has said in Shrimad Bhagwat Gita:
"Mind alone is the cause of an individual's
bindings (and bounds) and salvation"
The first point relates to breast-feeding. If Aries or Scorpio is in the 4th house in birth-chart or its Navamsha or its Kaarakaansh
chart, mother lacks in sufficient supply of milk in the breast, and has to take resort to bottle-feeding.
If Capricorn or Aquarious be in the 4th house in birth chart or Navamsha or Kaarakaansh chart, the mother, for sake of her beauty and personality doesn't prefer breast feeding, even if she is capable of it.
.
In either case bottle-feeding or employing a surrogate (feeding-nurse) becomes unavoidable.
If the parents are financially poor, the baby has to suffer poor development of body and ill health too till the age of at least 4 years.
As regards mode of transport, conveyance facility, even when alone in the 4th house, Moon makes it available, whether owned or borrowed one or getting lift every now and then.If Moon is in Taurus, Cancer, Virgo or Pisces, the individual enjoys more than one mode of transport, owned by self or parents or spouse or provided by the employers.
The mode of transport doesn't meet with repeated accidents or breakdowns, unless a Rasi owned by Mars or Saturn is in the 4th house and Moon is under unfavourable impact of Saturn, Mars or Rahu.
In so far as food and diet are concerned, the individual likes sweets and drinkable items, and often gains extra weight than medically prescribed for the individual's height an age .
But food habits otherwise do not adversely affect the health .
Normally the individual doesn't believe in fasting for religious purposes ( even if a staunch religionalist),but agrees to fasting on medical grounds or for presentability of the personality.
With regard to comfort in the bedroom and also of sound sleep, Moon gives both in the normal course, provided it is not in combination with Sun, Mars, Saturn, Rahu or Herschel', or is not in Aries, Scorpio, Capricorn or Aquarius. Much would depend on the Kaarak chart at the time of birth (expert astrologers do give this chart in the detailed horoscope).
If the Kaarak-planets (doer=giver of comfort from) for mother and/or spouse is a soft planet, these comforts are assured.
If the hard-planets Mars, Saturn or even Sun rule over these aspects of mother and/or spouse,the comfort in childhood would be less than needed or desired, and comfort in married life would be adversely effected, undoubtedly.
Further the position discussed in the preceding Paragraph would also determine whether the baby or the child would stay in the company or under the care of the natural mother or in the' custody or care of other blood relation, or under a nurse or nanny, Bringing up by someone else than the natural mother adversely affects, at least to a certain extent, the mentality of the baby or child when it grows into adolescence and adulthood.
One boy spent his childhood from the age of 6 months to 6 years in a separate town with the maternal grandmother, The result was that when he was sent from India to the US, for higher studies in a special career-oriented subject, he returned to India just after four months, though the study-course was of three-year duration.
The parents approached the senior author, and he suggested to the mother to shower greater affection and nearness to the boy mentally and physically. The natural mother acted as advised by the author. The result was that within just 4 months, the boy returned to USA and completed his studies with good honours.
The individual, on volition of self, is sincere and helpful, to the friends within the inner circle, sometimes even when response from the friends is not encouraging.
But on achievining adulthood and entry in career, this attitude of one-sidedness changes, and response from the other side becomes unavoidable.
After marriage, vast change comes into the basis of friendship, often remaining limited to one or two persons. Friendship on face or surface is a different matter, because it falls within sociability of the individual.
With regard to real estate (i.e. property), the individualis a contented person, generally remaining restricted to ownership of premises needed for restricted use of self and the family.
Chances of getting property by inheritance or by adoption or by gift or by way of award for gallantry or outstanding services to the nation (prevailing till 19th century and first half of the 20th century) are strong under Moon in the 4th house. The individual doesn't feel inclined to borrow large sums of money to own premises for residence or for work. But under pressure of the family or friends or circumstances, the individual might indulge in borrowing money to gain ownership of premises.
The individual generally doesn't believe in speculation in property or oft-repeated purchase and sale of property, unless driven by heavy loss in other avenues of finances! The individual is very much interested in social work, providing facilities for drinking water to human beings and cattle, construction of shelter for the destitute and poor, building school or other sources of education, religious premises, hospital or dispensary and similar other facilities for public use. If the individual doesn't have own resources, he or she doesn't mind in securing support for any of these purposes from others, who are capable to help financially or by work force.
The individual is always very prompt and particular in medical remedy, when needed, to mother, self and spouse, as also to other members of immediate and wider family and to friends too, and observes regularity in treatment.
Often the individual is afraid of medical treatment involving major surgery, and needs mental encouragement and support for getting ready for it, whether for self or others. If the need suddenly arises for caesarean delivery of child to a woman, she tries her best to avoid it or postpone it even to own risk or to the baby in the womb or to both. She has to be persuaded to go in for this or any other kind of major surgery.
Remedies –
Person, who have Moon Planet in fourth House with good aspect and placement or lord of 4th house then he or she can wear Pearl Gemstone. This will boost up their administration ability, business skills, successful career and help in business. If Moon placed with negative aspects then he or she do Rudrabhishek .
Note : Always wear Astrological Gemstones only after consulting your Horoscope with a Learned Vedic Astrologer – www.purevedicgems.com/best-astrologer