KETU IN THE 8TH HOUSE
Ketu in the 8th/Eighth House of Horoscope
Ketu in the 8th House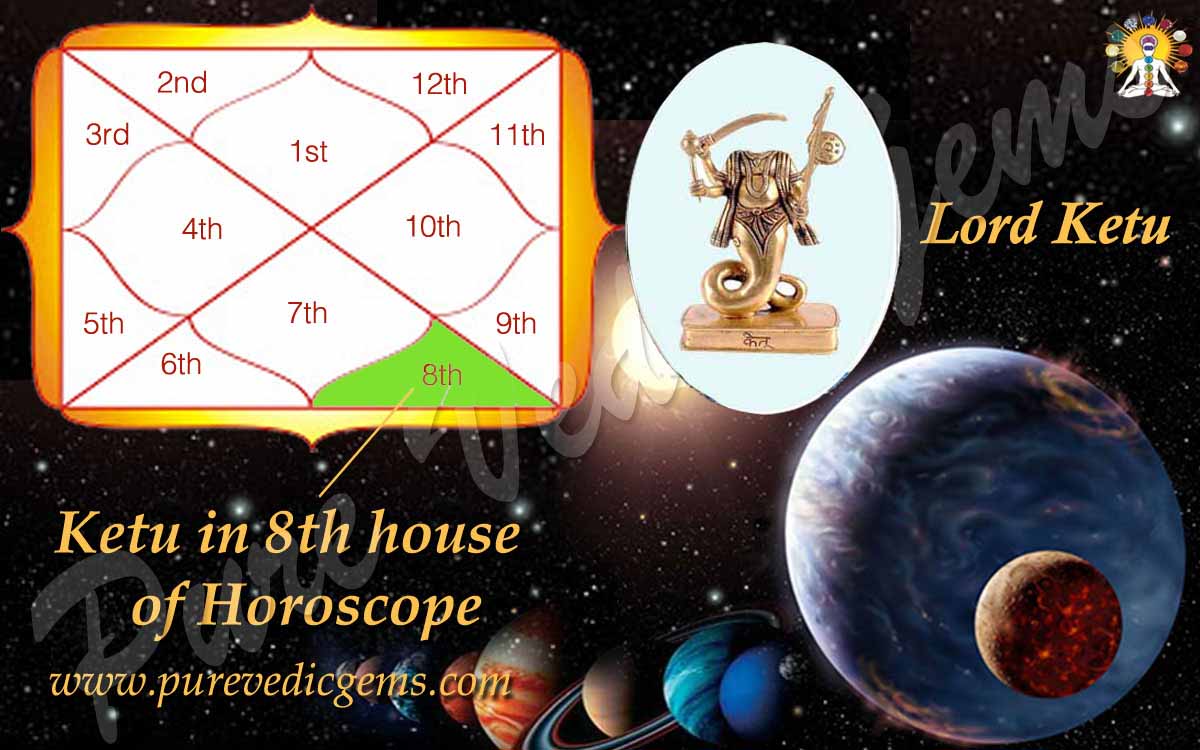 Ketu in the 8th/Eighth House / Benefits of Ketu in 8th/Eighth House of Horoscope /Characteristics of Ketu in 8th/Eighth House of Horoscope-
        KETU IN THE 8TH HOUSE
Ketu in the 8th house generally gives injury or accident by a vehicle or horse, donkey, mule, camel, elephant, buffalo etc., but if Ketu is not in anyway under the influence of Saturn or Mars, the injury would be minor and easily curable. It can give bite injury by a dog, jackal, fox, monkey, camel etc., which may or may not cause rabies. Sting or bite by a poisonous snake, crocodile, scorpion, or wasp is included in the results of Ketu in the 8th house.
If Ketu is in conjunction with Moon or Venus, particularly in a watery Rasi, risk is involved from water or from food poisoning. Then very often Ketu in the 8th house causes piles (haemorrhoids) trouble especially if there is a history of piles on the father's or mother's side, even two generations away. Fistula or allied ailment would not need any family history.
Another aspect of Ketu in the 8th house is inclination towards unnatural physical contact with either sex. Study of the horoscopes of gays or lesbians would indicate that at least 50 per cent of them would have Rahu or Ketu in the 8th house, very specially Ketu in the 8th house. It has been noticed that some people develop this interest at an advanced age, say beyond 45 or 48 years.
However Ketu, when alone in the 8th house, would not give any serious illness or disease as an outcome of these tendencies. But if Mars, Saturn, or Venus are in conjunction with Ketu in the 8th house, or cast substantial drishti on Ketu from the 2nd house, the illness or disease caused would take longer to cure and might leave a scope for recurrence.
Ketu in the 8th house makes the wife demanding in money matters or in physical relationship, which sometimes the husband fails to meet with in toto. If a Rasi owned by Mercury or Venus is in the 8th house, Ketu would improve the financial Position of the individual as also the social status, provided Mercury or Venus is does not occupy the 1st or the 3rd or the 6th house.
If Moon is in the 2nd house and Mars in the 8th house, Ketu in 8th house can give leukaemia or allied skin ailment. And if Moon is in the 12th house (Ketu in 8th house), it can give neurological trouble, its degree depending upon the distance of Moon from the central point of the 12th house.
         Remedies –
Note : Always wear Astrological Gemstones only after consulting your Horoscope with a Learned Vedic Astrologer –