Benefits of Jupiter in 6th House of Horoscope
Benefits of Jupiter in 6th House of Horoscope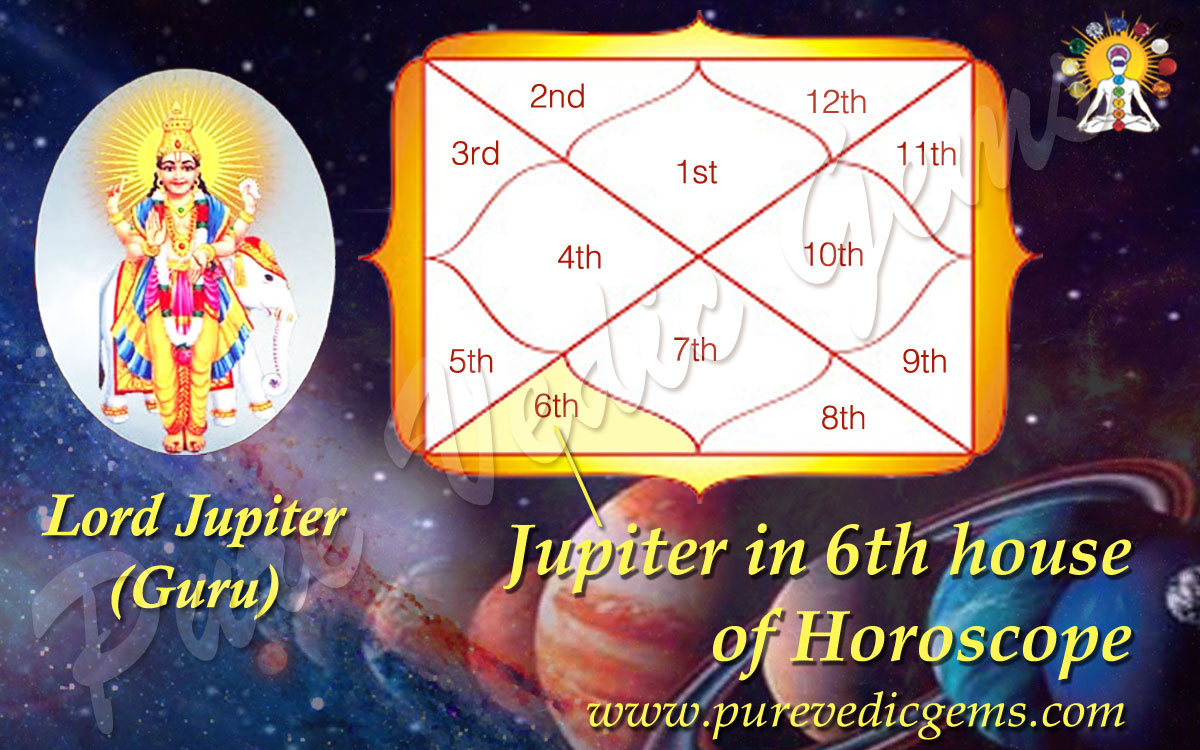 Jupiter in 6th house of horoscope
Jupiter in 6th House / Benefits of Jupiter in 6th House of Horoscope /Characteristics of Jupiter in 6th House of Horoscope
Jupiter in the 6th house is a difficult position for the individual with regard to recovery of loans, tracing lost items of jewellery, gold, cash, earning profits in speculation of any and every kind.
The individual is generally a loser ultimately in card-games or at horse-races or in other kinds of betting, and even in cases in courts of law or in taxation matters, moreso if a problem takes origin.
Sometimes asthma, diabetes, and kidney problems also peep into the life of the person, moreso if Jupiter is owner of 6th, 8th or 12th house. Males or females with Jupiter in the 6th house must not travel with heavy cash on person, and must not operate bank-lockers or safe-deposit vaults so very often; over-confidence about such matters or negligence can lead to undesirable results.
In matters of litigation, caution should be taken that the individual's lawyer/ advocate is not won over by the opposite party by any means or in any manner. He or she should try to be present at the time of hearing, just to observe, whether the presiding officer or his/her colleagues on the Bench is showing any inclination in favour of the opposite party outside the norms of judicial impartiality. The power resources and influences of the opposite party, adversary or opponent shouldn't be under-estimated.
In matters of taxation, it is always better not to annoy the officer assessing the individual's case or hearing and deciding the appeal or revision or review petition. At the same time the individual should not be mislaid by the chartered accountant or taxation adviser about demands of large bribes by the assessing officers and appellate authorities, as the CA or the adviser would very often keep own share in view in fixing the amount of bribe. Further these individuals sometimes suffer from second thoughts after submission of the return, appeal, review petition, representation, etc.
Remedies –
People who have JUPITER (BRIHASPATI)/GURU Planet placed in 6th House with good aspect and placement or having planet Jupiter as lord of 6th house then he or she should wear a fine quality, Natural and Astrologically Approved (Jyotish Standard) Yellow Sapphire (Pukhraj) Gemstone..  And if Jupiter/Brihaspati is placed with negative aspects or conjunctions then he or she must do "Mrityunjaya Mantra , 4 Mukhi & 8 Mukhi Rudraksha" to pacify the negative effects of planet Jupiter/Brihaspati in their lives.

Note : Always wear Astrological Gemstones only after consulting your Horoscope with a Learned Vedic Astrologer – www.purevedicgems.com/best-astrologer/