Benefits of Jupiter in 11th House of Horoscope
Benefits of Jupiter in 11th House of Horoscope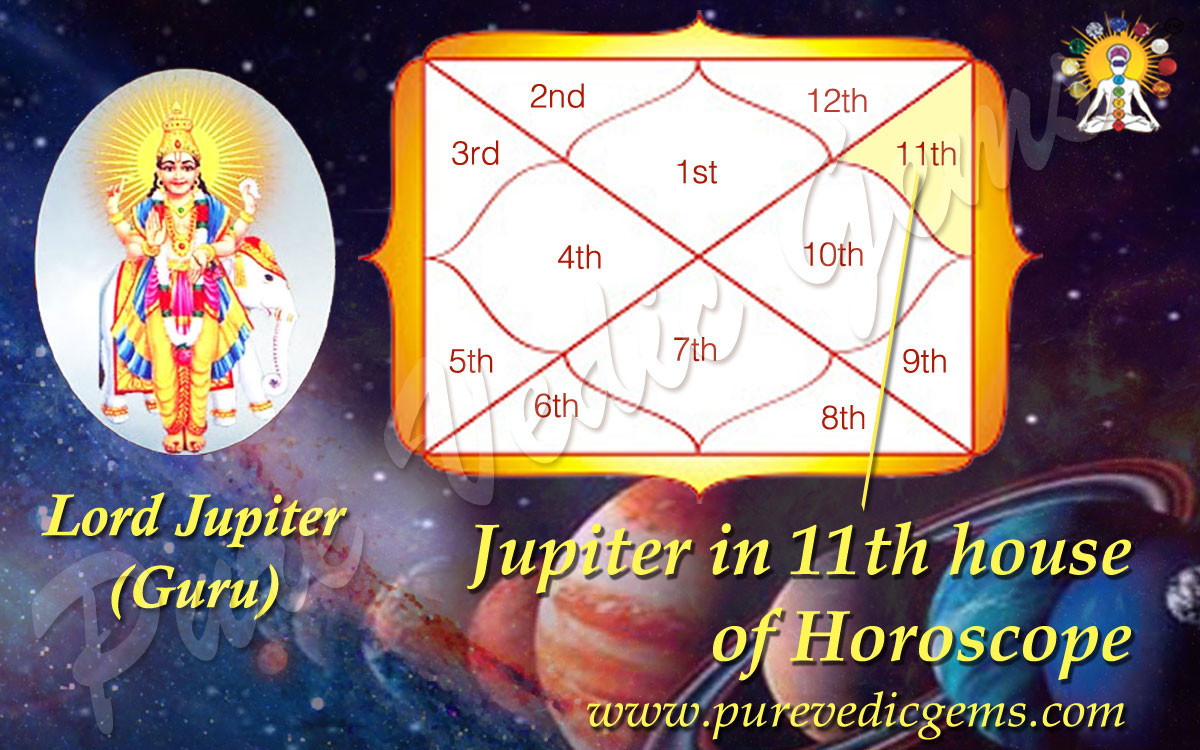 Jupiter in 11th House / Benefits of Jupiter in 11th House of Horoscope /Characteristics of Jupiter in 11th House of Horoscope
 jupiter in 11th House of Horoscope
Jupiter often prevails upon the individual to have only fair income, whether earned or unearned. It helps an individual in fussing, no doubt with hard and continuous work, the chartered accountancy or similarly the costs and works accountancy, or likewise the company secretary's exam. It also helps entry into judicial service, but not directly at the higher level, and it very rarely helps an individual's elevation to the bench from the bar. It gives routine promotions.
In the professions of chartered accountant or cost & works accountant, it gives higher income but only by fair means, cutting no slice from the gratification money to be paid to the taxation or court officer.
One big favour that Jupiter grants from the 11th house is one or more male child(ren), and when grown up, good education to the progeny, provided the progeny's own stars are very helpful for the purpose. If other hard stars do not interfere with the 5th house, the progeny would normally learn and develop good qualities.
Jupiter in 11th house helps solving problems related to income-tax, sales-tax, excise-duty, and if Moon or Venus should be with it in the 11th house within 12 degrees, Jupiter helps solving Cases in customs too. However, note that Jupiter generally helps in solving cases pertaining to avoidance of tax (staying legal but manupulating to pay less tax), and not evasion of taxes (going illegal by not paying the tax at-all). Further, Jupiter in 11th house doesn't help in matters of giving or receiving illegal gratification in cash, or jewellery, or in kind, unless Mars, Saturn or Rahu and sometimes Ketu (in place of Rahu) is with Jupiter in the 11th house.
Jupiter to a very limited extent helps in recovery from minor nor illness of a temporary nature.
Remedies –
People who have JUPITER (BRIHASPATI)/GURU Planet placed in 11th House with good aspect and placement or having planet Jupiter as lord of 11th house then he or she should wear a fine quality, Natural and Astrologically Approved (Jyotish Standard) Yellow Sapphire (Pukhraj) Gemstone.  And if Jupiter/Brihaspati is placed with negative aspects or conjunctions then he or she must do Rudra Abhishek Yagya to pacify the negative effects of planet Jupiter/Brihaspati in their lives..

Note : Always wear Astrological Gemstones only after consulting your Horoscope with a Learned Vedic Astrologer – www.purevedicgems.com/best-astrologer/
Note : Always wear Astrological Gemstones only after consulting your Horoscope with a Learned Vedic Astrologer – www.purevedicgems.com/best-astrologer/
Free Gems Recommendation