ELEVEN MUKHI RUDRAKSHA (BLESSED BY LORD HANUMAN)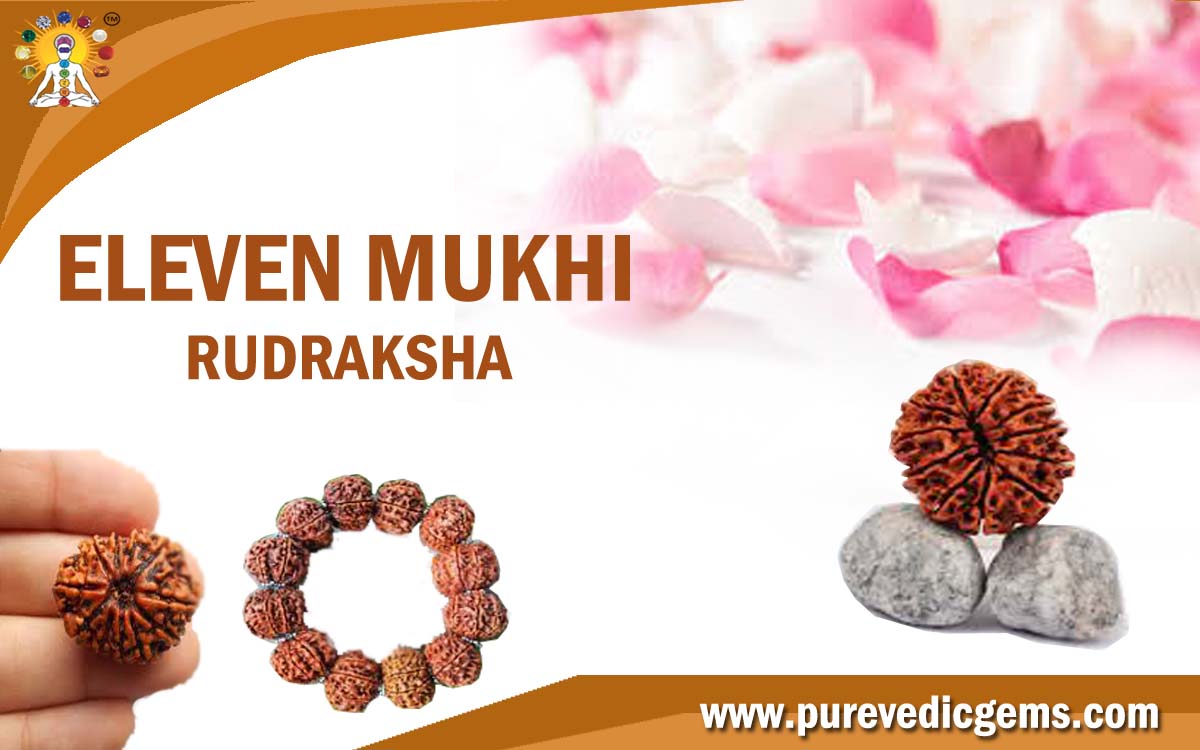 ELEVEN MUKHI RUDRAKSHA BLESSED BY LORD HANUMAN :
Eleven-faced bead is ascribed to Lord Indra or assigned to Lord Rudra and is worn for the attainment of popularity, strength and worldly comforts.
It is believed to be highly powerful possessing eleven strengths of eleven deities. It should he kept in the house at place 01 puja and in the cash box. It is especially useful for ladies, as it blesses them with a husband of long age, one who is progressive and wealthy. It is used for Mohan purposes in Tantrik. It is said that after purification, if a lady wears it, she is surely blessed with a son. The Eleven-faced Rudraksh is good for religious purposes.
Such as Bhagwat Darshan of one's deity. The mind is controlled.
One has wealth and finally becomes a Param Yogi.
It has no rulling planet. It induces courage and confidence in the wearer to lead an adventurous life.
Mantra For Wearing:
Om Room Kshoom Moom Yoom Aum
Viniyogah :
Asya Shri rudramantrasya Kashyap rishih, anushtupchhandah, rudrao devata, Room beejam, Kshoom shaktih, abhheshsiddhayarthe Rudraksh dharanarthe jape viniyogah.
After that perform Adi- Kar and Hiredeye Nayasa. Wear Rudraksha as per above directions. The sadhaka should recite during the day or morning.
Diseases it cures  :
Eleven Faced Rudraksha is ruled by Lord Indra and is used as remedy for body pain, backache, chronic alcoholism, liver diseases, Heart problems, blood pressure, diabetes.
To view our Rudrakshas…..…https://www.purevedicgems.com/buy-online-rudraksha
To Buy This Product Visit Here :http://purevedicgems.in/product-category/navratan/rudraksha/