Second Manifestation of Goddess Durga-Maa Brahmacharni and divine Yellow Sapphire Gemstones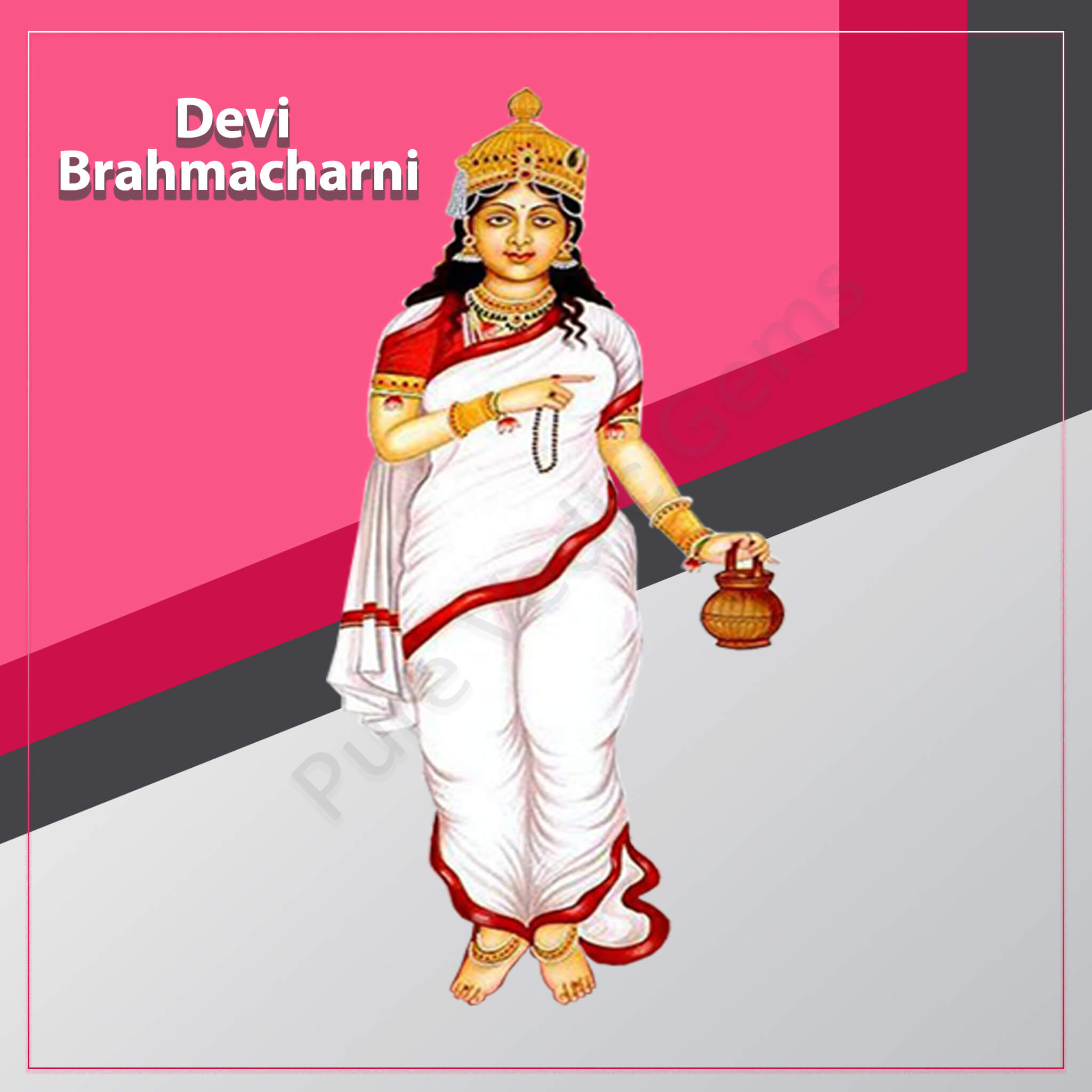 Worship Maa Brahmacharini on the 2nd day of Navaratri
Goddess Parvati took birth at the home of Daksha Prajapati. In this form the Goddess Parvati was a Great sati and her Unmarried form is worshipped as Goddess Brahmacharini.
Iconography Goddess Brahmacharini is depicted as walking on the bare feet. She has two hands and She carries Jap Mala in the right hand and Kamandal in the left hand.
Details – Goddess Brahmacharini did severe penance to get Lord Shiva as her husband. She performed hard austerity and due to which She was called Brahmacharini.
It is stated that during her penance to get Lord Shiva as her husband She spent 1000 years on the diet of flowers and fruits and another 100 years on the diet on leafy vegetables while sleeping on the floor.
Further She followed strict fasting regimen while staying at open place in scorching summers, harsh winters and stormy rains. According to Hindu mythologies She was on diet of Bilva leaves for 3000 years while She prayed to Lord Shankar. Later She even stopped eating Bilva leaves and continued her penance without any food and water. She was known as Aparna when She left eating Bilva leaves.
As legends go Goddess Brahmacharini immolated herself by wishing to get a father in her next birth who can respect her husband Lord Shiva.
Devanagari Name – ब्रह्राचारिणी
Mantra –  ऊँ देवी ब्रह्राचारिण्यै नम: II
II Om Devi Brahmacharinyai Namah II
Prarthana
दधाना कर पझाभ्यामक्षमाला कमण्डलू I
देवी प्रसीदतु मयि ब्रह्राचारिण्यनुत्त्मा II
Dadhana Kara Padmabhyamakshamala Kamandalu  I
Devi Prasidatu Mayi Brahmacharinyanuttama II
Stuti –
या देवी सर्वभूतेषु  माँ ब्रह्राचारिणी रूपेण
संस्थिता I नमस्तस्यै नमस्तस्यै नमस्तस्यै नमो नम: II
Ya Devi Sarvabhuteshu Maa
Brahmacharini Rupena Samsthita Namastasyai
Namastasyai Namastasyai Namo Nannah  II
Dhyana –
वन्दे वात्र्छितलाभाय चंद्रार्धकृतशेखराम्  I
जपमाला कमण्डलु  धरा ब्र्हाचारिणी शुभाम्  II
गौरवर्णा स्वाधिष्ठनस्थिता द्धितीय दुर्गा त्रिनेत्राम्  I
धवल परिधाना ब्रह्रारूपा पुष्पालड्‌कार भूषिताम् II
परम वन्दना पल्लवाधरां कान्त कपोला पीन I
पयोधराम् कमनीया लावणयं स्मेरमुखी निम्नाभि नितम्बनीम II
Vande Vanchhitalabhaya Chandrardhakritashekharam I Japamala Kamandalu Dhara Brahmacharini Shubhann II Gauravarna Swadhishthanasthita Dwitiya Durga Trinetrann I Dhawala Paridhana Brahmarupa Pushpalankara Bhushitann II Parama Vandana Pallavaradharam Kanta Kapola Pina I Payodharam Kamaniya Lavanayam Smeramukhi Nimnanabhi Nitambanim II
Stotra –
तपश्रारिणी त्वंहि तापत्रय निवारणीम् I
ब्रह्र्रारूपधरा ब्रह्राचारिणी प्रणमाम्यहम् II
शड्‌‌‌करप्रिया त्वंहि भुक्ति मुक्ति दायिनी I
शान्तिदा ज्ञानदा ब्रह्राचारिणी प्रणमाम्य्हम् II
Tapashcharini Tvamhi Tapatraya Nivaraninn I
Brahmarupadhara Brahmacharini Pranamamyaham II
Shankarapriya Tvamhi Bhukti-Mukti
Dayini I
Shantida Jnanada Brahmacharini Pranamamyaham II
Kavacha –
त्रिपुरा में ह्र्दयम् पातु ललाटे पातु  शड्‌करभामिनी I
अर्पण सदापातु नेत्रो, अर्धरी च कपोलो II
पत्र्चदशी कण्ठे पातु मध्यदेशे पातु महेश्र्वरी II
षोड्शी सदापातु नाभो गृहो च पादयो I
अड़्‌प्रत्यड़ सतत पातु ब्रह्राचाणिरी I
Tripura Mein Hridayam Patu Lalate Patu Shankarabhamini I
Arpana Sadapatu Netro, Ardhari Cha Kapolo II
Panchadashi Kanthe Patu Madhyadeshe Patu Maheshwarill
Shodashi Sadapatu Nabho Griho Cha Padayo I
Anga Pratyanga Satata Patu Brahmacharini I
On this day, the meditation is focused on the Swadhisthan chakra its name literally meaning "ones own abode", which is also the seat of creativity.
The gemstone from among the navratnas associated with Goddess Brahmcharini is the Yellow sapphire and the related planet is Jupiter (Brihaspati). People suffering from ill effects of badly placed Jupiter in their horoscope should fast on this day and pray to Maa Brahmcharini and the ones having Jupiter positive in their horoscope but falling weak due to poor placement should wear a jyotish Quality Natural Yellow Sapphire.
click here to view our product
2nd Day of Navratri : 8th October, 2021 (Friday)
Tithi – Dwitiya
Tritiya Goddess Worshipped – Brahmacharni
Offerings to the Goddess -Sugar
Color to be Worn on the Day – Yellow
Favourite Flower – Jasmine
Gems – Yellow Sapphire (Jupiter) Brahmacharni Maha Puja