KETU IN THE 6TH HOUSE
ketu in the  6th/Sixth House of Horoscope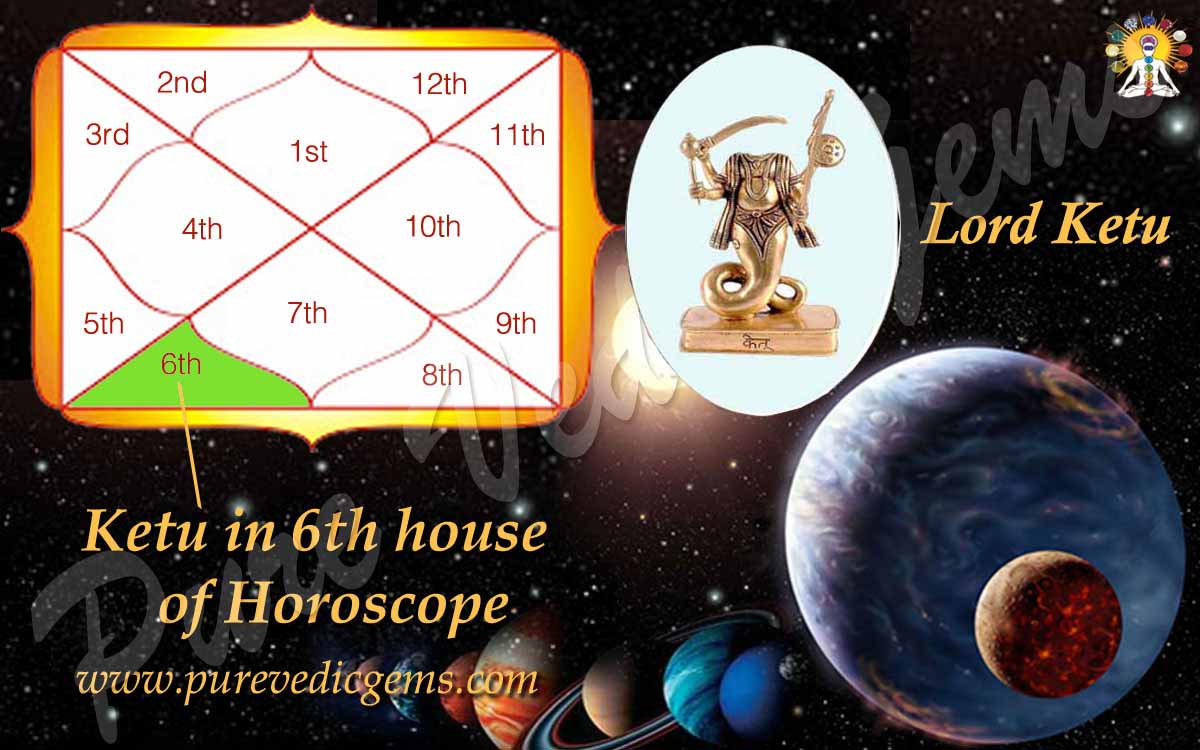 Ketu in the 6th/sixth House / Benefits of ketu in 6th/sixth House of Horoscope
/Characteristics of Ketu in 6th/sixth House of Horoscope-
KETU IN THE 6TH HOUSE
This is a house where Ketu's results are not parallel to that of Mercury, though in other houses Ketu gives results parallel to those of Mercury. Ketu in the 6th house gives an alert mind, good memory, tendency to follow up past events and actions (but not in revengeful manner). It also gives a healthy body, tendency to work hard constantly and continuously, convenience of means of transport. To those living in rural areas Ketu gives fondness for pets and milch animals, keenness to forgive minor offence insult by others, but not to forgive or forget serious type of insult and injury.
Along the of Rahu and Saturn, Ketu in the 6th house is capable of giving differences or even dispute with maternal uncles, maternal aunts, in rare cases, based on question of inheritance from maternal grandparents or maternal family. If Jupiter is in conjunction with Ketu within 12 degrees, the differences and disputes might go to the extent of legal action, because Ketu in the 6th house gives narrow-mindedness especially where maternal family is concerned.
Ketu gives quick recovery from illness, provided it is not a bone injury nor fracture or sex-related complaints of health. Individuals with conjunction of Venus with Ketu in the 6m house should try to keep away from extra-marital relationship or free-lance physical relations with any sex.
Remedies –
Person, who have KETU Planet in Sixth House with good aspect and placement or lord of Sixth house then he or she can wear Catseye Gemstone. This will boost up their administration ability, business skills, successful career and help in business. If KETU placed with negative aspects then he or she must do Ganapati Atharvashirsha.
Note : Always wear Astrological Gemstones only after consulting your Horoscope with a Learned Vedic Astrologer –  www.purevedicgems.com/best-astrologer